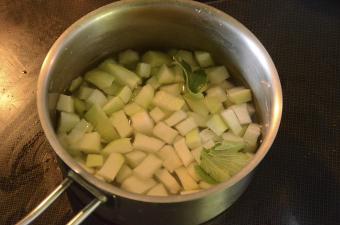 Kohlrabi looks like a root vegetable but it's actually a tuber like cabbage. The entire plant - from the leafy green top to the bulb at the other end - is edible. It can be eaten raw or cooked using just about any preparation method in a myriad of recipes. This is one vegetable worth exploring.
How to Clean and Cook Kohlrabi
Before you start cooking kohlrabi, it's good to know how to prep it. If your market sells this vegetable with the leaves attached, cut them off. They can be saved for stews and soups, and as greens similar to collard greens. Just refrigerate them in plastic bags. They will keep for several days.
Wash the bulbs, pat dry, and cut off the top and bottom ends. Peel the entire bulb, wash again, and pat dry. Now you can grate, cube, thinly slice or hollow them out to be stuffed.
Roast
This is a surprising method of cooking kohlrabi many people are unaware of. Roasting coaxes out sweet, caramel flavors that are a great accompaniment for just about any main course. Follow these vegetable roasting tips.
Cut 4 medium stemmed and peeled kohlrabi bulbs into 1-inch dice.
In a large bowl, mix together 2 tablespoons olive oil, 2 whole peeled garlic cloves, fresh herbs of choice (basil, chervil, chives, dill, fennel fronds, lovage and parsley all go well with kohlrabi), salt, and pepper.
Add the kohlrabi, stirring to coat with oil. Place on a rimmed sheet pan or roasting pan and cook 30 minutes at 400 degrees F, stirring once during cooking. Remove from oven and squeeze meat from garlic cloves and mix into the kohlrabi.
You also can grill kohlrabi in foil.
Boil
Stemmed, peeled and diced kohlrabi can be boiled in water or broth to cover until tender. They can then be treated like potatoes by serving drained with butter, dill, and a sprinkle of caraway, a béchamel sauce, or salt, olive oil, and a little lemon juice. Or they can be mashed and served on their own or mixed with potatoes or a root vegetable like turnips. They make a great vegetable soup addition as well as a delicious cream soup when puréed.
Steam
Most vegetables lend themselves to steaming, including kohlrabi. While the bulbs can be steamed whole, it will take a long time. A faster method is to cut the vegetables first.
Cut stemmed and cleaned bulbs into wedges and place in a steamer basket above 1 inch of water (keep an eye out so the water doesn't boil away).
Cover and steam until tender, about 10 to 15 minutes.
Drain and toss with parsley, olive oil, salt and pepper.
Fry
Shredded kohlrabi can be turned into pancakes similar to potato pancakes and vegetable fritters or thin slices can be fried in olive oil or butter for a nice alternative to cottage fries made with potatoes.
Raw
Since kohlrabi is related to the cabbage family, consider shredding trimmed and cleaned bulbs to be mixed with cabbage for a creamy cole slaw variation. Or add thin slices to a salad.
Stuffed Kohlrabi Recipe
Stuffing kohlrabi with meat and some type of grain, usually rice, is very common in Central and Eastern Europe. The sauce changes with the country. The cream sauce in this recipe is reminiscent of the German treatment of this turnip-like vegetable.
Yield: 4 (2-piece) servings
Shell and Filling Ingredients
8 (3-inch-diameter) kohlrabi
1 small finely chopped onion
1 finely chopped garlic clove
2 tablespoons unsalted butter
1 pound lean ground pork
1/2 cup cooked long-grain rice
2 tablespoons finely chopped fresh parsley leaves plus additional for garnish if desired
1/4 teaspoon crumbled dried marjoram
1/4 teaspoon caraway seeds
2 large lightly beaten eggs
3 1/2 cups chicken broth
Sauce and Serving Ingredients
2 tablespoons unsalted butter
2 tablespoons all-purpose flour
1/2 cup heavy cream
Salt and pepper, to taste
1 pound peeled and boiled tiny potatoes, left whole
Prepare the Kohlrabi
Cut the leafy ends off the kohlrabi and set aside. Peel the kohlrabi bulbs.
Trim off 1/4 inch from the root end of each bulb so they will stand upright.
Scoop out the pulp from the opposite end with a spoon or knife and melon baller, leaving 1/4-inch-thick shells.
Finely chop the scooped-out kohlrabi meat.
Place the reserved kohlrabi leaves in a medium saucepan of salted water.
Bring to a boil and simmer for 3 minutes or until they are just tender. Drain well, patting dry, and chop them finely and set aside.
Make the Filling and Stuff the Kohlrabi
Set a large skillet over medium heat. Add 2 tablespoons butter, the onion and garlic, and sauté until the onion is golden and caramelized but not brown. Transfer to a large bowl.
Add the pork, rice, 2 tablespoons chopped parsley, marjoram, caraway seeds, eggs, 1/2 of the chopped kohlrabi pulp, 1/4 cup of the cooked and chopped kohlrabi leaves, salt and pepper to taste, and mix until well combined. Do not overwork the meat for fear of toughening it.
Divide the mixture evenly among the kohlrabi shells, mounding it slightly. You undoubtedly will have leftover stuffing mixture. Form it into meatballs to be cooked alongside the stuffed kohlrabi.
Cook the Kohlrabi
Coat with cooking spray a lidded Dutch oven or casserole dish just large enough to keep the stuffed kohlrabi standing upright with room for the meatballs. Distribute the rest of the pulp and leaves around the kohlrabi and meatballs and add the broth.
On the stovetop, bring the broth to a boil, reduce the heat and simmer, partially covered, for 30 to 50 minutes, or until they can be pierced easily with a sharp knife. Transfer the shells and meatballs with a slotted spoon to a plate, covering loosely with foil to keep them warm. Reserve the cooking liquid.
Make the Sauce and Serve
Cook the flour in the 2 tablespoons of butter in a saucepan over medium heat to make a roux. Using a wooden spoon, stir frequently and cook for 3 minutes. Switch to a whisk and add the cream. Stirring constantly, bring the mixture to a boil, reduce the heat, and simmer for 1 minute.
Add a few ladles of the reserved cooking liquid to the cream mixture, whisking until smooth. Then pour the tempered cream back into the pot with the rest of the cooking liquid.
Add salt and pepper to taste and cook the sauce over medium heat, stirring occasionally, for 5 to 10 minutes, or until it has thickened.
Serve the stuffed kohlrabi shells and meatballs with small peeled and boiled new potatoes and the sauce and garnish with additional chopped parsley if desired. A green vegetable and hearty rye bread will go well with this dish.
An Unusual Vegetable With Lots of Potential
If you're a Harry Potter fan, you might think a kohlrabi looks a bit like a mandrake. But, no, it's a harmless cousin of the turnip with lots of potential stuffed, sautéed, in soups and puréed with other vegetables of its ilk. Give it a try.