Sweet corn delivers one of the most distinctive tastes of summer, but plain corn on the cob gets old fast. These three recipes will jazz up your corn and give your family and friends some much-needed variety.
Bacon Wrapped Sweet Corn
Grilled sweet corn has never tasted so good, and it goes perfectly with a nicely charred steak. This recipe serves four, but you can easily prepare as many ears as you need.
Ingredients
4 ears of sweet corn, shucked
12 slices of bacon
Directions
Start up your grill so it gets nice and hot.
Rinse the ears of corn in cold water and pat them dry with a paper towel.
Wrap 3 slices of bacon in rings around each ear.
Wrap each ear in foil and use a toothpick to prick three or four holes in the foil to allow some of the steam to escape while cooking.
Place the foils on a hot grill and let them cook about 15 to 18 minutes.
Using tongs, turn the ears over and cook the opposite side for another 15 to 18 minutes or until the bacon looks fully cooked when checked.
Serve hot.
Sweet Corn Salad
Forget the potato salad. Imagine this fresh, delicious salad as a side dish for your summer picnic. This recipe serves about five people.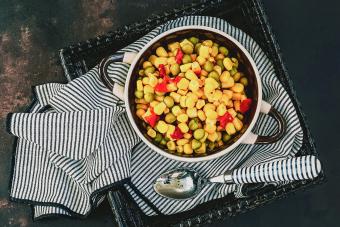 Ingredients
2 cups cooked sweet corn kernels
1 pint cherry tomatoes, sliced in half
1 small cucumber, peeled, seeded and diced
1 small green pepper, seeded and diced
1/4 of a small red onion, diced fine
2 tablespoons cilantro, chopped fine
1/4 cup Italian dressing
2 tablespoons freshly squeezed orange juice
Directions
In a medium-sized bowl, combine the first six ingredients.
In a small bowl, stir the dressing and juice together.
Pour the dressing mixture over the other ingredients and toss them together.
Put a lid on the bowl and let the salad chill in the refrigerator for at least four hours. Toss again right before serving.
Pair this dish with something savory like spicy barbecue ribs or fried chicken.
Sweet Corn Pita Pizza
This recipe offers a great way to use up leftover corn on the cob. It makes one personal pizza, but you can easily multiply it to serve as many people as you like.
Ingredients
1 whole pita
Corn kernels from one cooked cob
4 leaves of fresh basil (or the herbs of your choice)
About 1 cup of mozzarella cheese
1 tablespoon olive oil
Directions
Preheat the oven to 375 degrees Fahrenheit.
Place the pita on a baking sheet lined with foil.
Drizzle the oil over the pita.
Sprinkle the bread with half the mozzarella.
Sprinkle half the corn over the cheese.
Repeat steps 4 and 5 with the remaining cheese and corn.
Place the basil leaves on top of the cheese and corn.
Bake in the oven for approximately 15 minutes or until the cheese is completely melted.
Slice the pita into quarters and serve with a glass of ice tea or chilled white wine.
Savor the Season
Sweet corn season only lasts so long, and then it's back to the frozen or canned stuff. These recipes will help you make the most of your fresh, local corn while it's available, so be sure to give them a try.