Veal cutlets are thin slices of meat, typically from the leg, ribs, breast, or shoulder of a young animal. Cutlets are wonderful for weeknight meals because they cook quickly and lend themselves to a number of recipes. The mild flavor often makes veal a family favorite.
Veal Information
Veal cutlets, specifically, come from male calves, typically only two or three months old and weighing less than 300 pounds. The calves are from dairy cows - which need to have a calf each year to keep producing milk - and are raised in confined spaces to minimize their muscular development and maximize the tender cuts of meat that are prized delicacies around the world. They are usually milk-fed (perhaps with artificial milk), giving their meat a delicate flavor and pale coloration.
Veal cutlets are relatively lean cuts of meat that are high in iron, zinc, and vitamin B-12.
Cutlets are frequently breaded and either fried, broiled, or grilled to sear the meat and seal in the flavor. Served with a variety of sauces - Italian blends and mushroom sauces are popular - veal cutlet recipes are often reserved for special occasions. Because of the meat's tenderness, it also makes an excellent soup stock.
Veal Cutlet Recipes
Veal cutlets usually cook extremely quickly because of the thinness of the meat. They can be breaded and fried as well.
Lemon Veal Scallopini
Ingredients
1 pound veal cutlets, cut into thin slices
Salt and pepper, to taste
1 cup flour
2 tablespoons butter
Zest from half a lemon
Juice from 1 lemon
1 tablespoon butter
1/4 cup chopped fresh parsley
Method
Pound veal slices until they are very thin, about 1/4 inch.
Season slices with salt and pepper.
Dip into the flour and tap off excess.
Heat butter in a 12-inch sauté pan until it bubbles.
Sauté veal in butter, browning on both sides, about 1 minute per side. Work in batches if you have to, so veal doesn't crowd pan.
Remove veal from pan.
Add lemon juice and scrape up bits from the bottom of the pan.
Add lemon zest and butter. Stir to combine, heating until butter melts.
Spoon over veal cutlets and sprinkle with fresh parsley.
Weiner Schnitzel
Ingredients
4 veal cutlets
Salt and fresh cracked black pepper to taste
1 cup flour
2 cups dry bread crumbs
4 eggs
1/4 cup whole milk
1/4 cup unsalted butter
Method
Season cutlets with salt and pepper.
Pour flour onto one plate.
Pour bread crumbs onto another plate.
Whisk together eggs and milk in a shallow bowl.
Dredge the veal in flour, tapping off the excess.
Dip veal in egg and milk mixture and then in bread crumbs, coating completely.
Heat butter in a 12 inch sauté pan until it begins to bubble.
Cook cutlets in butter until brown, about 1-1/2 minutes per side.
Breaded Veal Cutlets With Tomato Sauce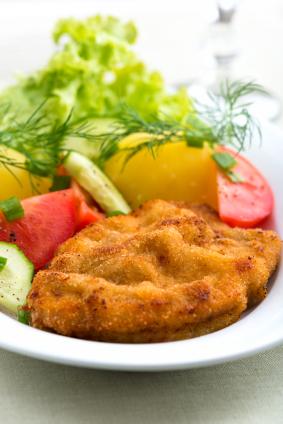 Ingredients
1 pound of veal, sliced into very thin cutlets
Sea salt and fresh cracked black pepper
1 tablespoon of butter
4 ounces pancetta, cut into strips
2 eggs, beaten
1 cup dry bread crumbs
1 onion, diced
2 cloves garlic, minced
1/2 cup dry white wine
1/2 cup chicken stock
1 (32-ounce) can of chopped tomatoes, drained
Several fresh basil leaves, cut into a chiffonade or torn into small pieces
Instructions
Trim cutlets of excess fat and season with salt and pepper.
Melt butter in a large sauté pan until it bubbles.
Add pancetta and fry until crisp. Remove pork from fat and allow to drain on a paper towel. Set pork fat over medium high heat in sauté pan.
Dip veal into flour. Tap to remove excess. Next, dip veal into beaten eggs, and then bread crumbs, turning to coat.
Place veal in pork fat and saute without moving, cooking through - about 2 minutes per side.
Remove cutlets and set aside on a paper towel to drain. Tent with foil to keep warm.
Add onions to the pan and cook until they are transparent, about 5 minutes.
Add garlic and stir until garlic releases its scent - about 30 seconds.
Add wine to pan and scrape up any browned bits on the bottom. Add chicken stock.
Return pancetta to pan.
Simmer to reduce liquid by half.
Add drained tomatoes, stirring occasionally until sauce thickens and liquid reduces, about 5 minutes.
Spoon sauce over cutlets and sprinkle with basil.
Tips
Because of its subtle flavor and velvety texture, veal must be cooked carefully. When preparing veal cutlet recipes, consider the following tips:
Do not overcook the meat - use lower temperature settings and keep it moist to preserve the tenderness.
Coating cutlets first with flour, and then egg and bread crumbs, helps seal in natural juices.
Rubbing veal with lemon prior to cooking will preserve the light color of the meat.
Avoid strong sauces and spices that will overpower the flavor; parsley, chives, rosemary, and other green herbs work well.
Let cutlets rest several minutes before serving to increase their tenderness.
Prepare Veal with Ease
With care, these cuts of meat make excellent entrees. Despite their reputation for intricacy, veal cutlet recipes can be easy to prepare for any chef.