New Year's Eve is a time for celebration and sharing good times with friends and family. Hosting a traditional New Year's dinner is a great way to celebrate.
Lentil Hummus
Lentil makes a great starter for any meal. Lentils symbolize money, and they are considered lucky when eaten on New Year's Day. For a sit down meal, lentil soup is a tasty way to serve those little green coins. Change it up and serve this delicious lentil hummus. Serve it with cut up vegetables and fresh bread.
Ingredients
1-1/4 cups green lentils
2 quarts water
1/2 cup tahini
5 cloves of garlic
1/2 cup lemon juice
1/2 cup water
1/2 cup olive oil
1/2 teaspoon cumin
Salt and pepper
Instructions
Preheat oven to 350 degrees.
Place the peeled garlic cloves in an oven safe pan.
Drizzle with olive oil.
Add salt and pepper.
Roast the garlic for at least 25 minutes or until it starts to brown.
Remove from the oven and let cool.
Bring the two quarts of water to a boil.
Add two tablespoons of salt to the water.
Add the lentils.
Boil the lentils for 15 minutes.
Test them and make sure that they are soft.
Drain the lentils and rinse with cold water.
Transfer to a bowl and let them rest in the refrigerator for 30 minutes.
Place the lentils into your food processor and pulse for a minute or two.
Then, add the tahini, roasted garlic, lemon juice, olive oil, cumin, and a pinch of salt and pepper.
Run the food processor until the ingredients are well combined. The texture of the lentil hummus should be smooth, so you may need to add some of the water or you may not need it all.
Taste for salt and pepper.
Cornbread
Cornbread symbolizes gold and is eaten throughout the south as a traditional New Year's food. Cornbread cooks best in a cast iron pan. When the cornbread batter is placed in the preheated cast iron pan, the bread will develop a crisp crust.
Black-Eyed Peas and Ham
Black-eyed peas and ham is a traditional southern dish often served on New Year's Eve. Start this early in the morning, or even the day before; it tastes even better reheated.
Ingredients
2 tablespoons olive oil
1 cup chopped onions
2 tablespoons minced garlic
2 bay leaves
1 tablespoon chopped fresh thyme
1 cup chopped cooked ham or ham hock pieces
1 pound dried black-eyed peas, soaked in cold water overnight and rinsed well
1 quart chicken stock
1 cup cold water
Salt and pepper to taste
Instructions
Heat the olive oil over medium heat in a large stock pot.
Add the garlic and onions, and sauté until the onions are translucent.
Add the bay leaves, thyme, ham, black-eyed peas, chicken stock and water.
Cover and reduce the heat.
Simmer for approximately 25 minutes.
Serve with fresh cornbread on the side.
Pork and Sauerkraut
Pork and sauerkraut is another traditional dinner option that can be served in place of the black-eyed peas and ham. Serve it alongside mashed potatoes and applesauce.
Brussels Sprouts and Peas
Brussels sprouts and peas is a traditional side dish for the New Year; the green color represents wealth.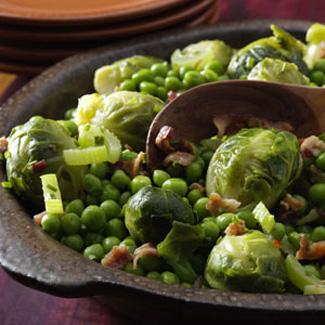 Ingredients
1 pound fresh Brussels sprouts, stems and outer leaves removed
3/4 pound fresh peas
2 medium celery ribs, chopped
2 tablespoons butter
2 strips cooked bacon, chopped
2 tablespoons minced chives
1/4 cup olive oil
Salt
Instructions
Toss the Brussels sprouts with olive oil and salt and place them on a baking sheet.
Set them in an oven preheated to 400 degrees F. and roast for 30 minutes.
Place the peas in a pan of boiling water for five minutes, then drain.
Heat the butter in a skillet over high heat. Add the celery, bacon and chives and sauté until the celery is tender.
Toss the Brussels sprouts, peas, and celery together in a large bowl and serve.
Doughnuts
Serve doughnuts for dessert as part of your traditional table. Any circular or round food such as doughnuts are served for luck in the Netherlands.
Portzelky
These traditional raisin cookies are eaten for dessert in Mennonite communities on New Year's Eve.
Ingredients
Instructions
Dissolve the sugar and yeast into the warm water and let sit for 10 minutes.
Add the raisins, eggs, milk and salt to the yeast mixture, and beat until smooth.
Slowly add the flour to the yeast mixture, beating well until a thick, smooth dough forms.
Cover the dough and let rise for one hour.
Heat the vegetable oil in a deep pan to approximately 375 degrees F.
Scoop up the dough by the tablespoon and roll into balls.
Fry the dough in the oil until golden brown.
Roll the finished cookies in confectioner's sugar and allow to cool.
Other Dinner Options
Other foods that are said to bring luck in the New Year are:
Bread with a coin baked into it
Round breads
Twelve grapes, one for each month
Kale, collards, or other greens, which are considered lucky since they are the color of money
Silver foods, like herring or sardines, which represent wealth
Ring in the New Year With Tradition
Create a traditional New Year's dinner party using any of these dishes or desserts. Your guests are sure to thank you for the prosperity you're sending their way.