Creamy and delicious, tapioca pudding is a wonderful comfort food. Served warm or cold, it makes a delightful dessert. If you've hesitated to make your own tapioca because of the convenience of purchasing store-bought pudding, give one of these recipes a try. You may never go back to store-bought again.
Variations on Classic Tapioca Pudding
Both of the following recipes make great pudding. If you're more of a hands-on cook, try the quick and tasty recipe. If you prefer to throw your ingredients together in a pot and take care of something else while they're cooking, the slow cooker recipe is the one for you.
Quick and Tasty Tapioca Pudding
This recipe uses fast-cooking tapioca rather than pearls to shorten the cooking time. It produces a creamier pudding, but you can add an extra tablespoon of tapioca to the recipe if you prefer your pudding a little thicker.
Ingredients
2 1/2 cups whole milk
1/3 cup sugar
3 tablespoons tapioca
1/4 teaspoon of cinnamon
Pinch of salt
1 large egg, slightly beaten
1 1/2 teaspoons pure vanilla extract
Directions
In a large bowl, slightly beat the egg, and set it aside.
In a heavy, non-stick saucepan, combine all the ingredients except for the egg and vanilla.
Stir the ingredients to combine well, and then let them soak with the tapioca for 15 minutes.
Heat on medium, and stir constantly as you slowly bring the mix to a simmer.
Let it simmer for about two minutes as you continue to stir.
Remove the pan from the heat, and very slowly pour about 1/3 of the pudding mix into the egg as you stir it. This will temper the egg and prevent it from cooking solid before you pour this mix back into the saucepan with the rest of the pudding.
Set the burner on low heat, and continue to cook and stir until the pudding just begins to thicken.
Remove the pan from the heat, stir in the vanilla, and let sit for 35 minutes. The tapioca will continue to thicken the pudding.
Spoon into individual serving dishes, and serve warm or cold as you prefer.
Slow Cooked Tapioca Pudding
This is a less labor-intensive version that still creates a creamy, satisfying dessert. As an added bonus, you'll love the aroma of vanilla that lingers in your kitchen!
Ingredients
4 cups whole milk
2/3 cup white sugar
1/2 cup small pearl tapioca
2 eggs, lightly beaten
2 teaspoons pure vanilla extract
Pinch of salt (optional)
Directions
Combine all the ingredients in a large bowl and stir to mix well.
Pour the mix into the slow cooker.
Cook on low for approximately 6 hours.
Allow the pudding to cool until just warm and serve, or transfer to individual serving cups and refrigerate before serving.
Basic Types of Tapioca Used in Pudding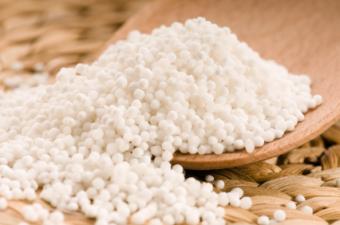 Tapioca is a starch produced by the cassava plant that is used to thicken foods. It can be purchased as flakes, such as the quick-cooking tapioca sold in grocery stores. It is also sold as pearls, which come in small and large sizes.
Most pudding recipes seem to call for the small pearls, but a few recipes call for the large pearls specifically. Since tapioca is a dried food, it must be soaked before using.
Helpful Cooking Hints
Never skip the soaking time called for in any recipe. This will help ensure your pudding turns out the proper consistency.
Use whole milk in your pudding for the best results. Using 2% milk tends to make a more watery pudding.
Always use the freshest tapioca you can get. This grain loses its ability to thicken after just a few months of storage.
Tapioca continues to thicken as the pudding cools, so avoid overcooking or your pudding will turn to paste. The tapioca should have just turned translucent before you remove it from the heat.
Beyond Classic Tapioca
Tapioca pudding is tasty by itself, but don't feel like you can't experiment a little. Layer it with chocolate pudding or fruits like strawberries, blueberries and bananas for a sweet parfait. Top it off with some whip cream or sprinkle it with a touch of nutmeg. You can even use it in a trifle. This classic dessert can be as versatile as it is delicious.