Canapés are small, appetizer-sized bites of food, usually with bread or a cracker on the bottom and a decorative garnish on the top. You can distinguish canapés from other appetizers because they are meant to be eaten neatly with the fingers, while many other appetizers require a fork or toothpick.
Traditional Canapés
These small bites are often served at cocktail parties and are frequently are frequently quite savory. Traditional canapés have a base of shaped stale white bread that has been toasted or fried. The next layer of a traditional canapé is a soft, flavorful spread such as compound butter or herbed cream cheese. The next layer is typically something that has been puréed and piped on through a pastry bag in a decorative manner. Finally, the canapé is garnished with something pretty and decorative, such as a pimento or caviar.
Canapé Bases
While white bread is the traditional foundation upon which a canapé is built, you can use other bases, as well, including:
Gluten-free bread
Dried bread rounds
Crackers
A small pancake or blintz
Multi-grain breads
Sprouted grain breads
Rye bread
In order to be an effective foundation for your canapé, your base ingredient should be solid, neat when you hold it in your fingers, and able to hold together so you can spread something on top of it. Once you've decided on your foundation ingredient, you can slightly flatten it and cut it into a shape with cookie cutters or freehand. Next, you need to firm up your foundation (unless it's a cracker) by toasting it, deep frying it, or sautéeing it.
Canapé Spreads
The traditional spread for canapés is compound butter or cream cheese. Other spreadable cheeses will work equally well. You can find many commercially prepared herbed cream cheese types at your grocery store, or you can make your own. To make an herbed cream cheese, finely chop your favorite herbs and mix them into softened cream cheese. Refrigerate overnight.
Compound butter is also quite easy to make.
Soften a stick of unsalted butter and place in a small bowl.
Chop your favorite herbs or other ingredients (such as truffles, chopped peppers, capers, or olives) and add to the butter.
Mash the ingredients together until well combined.
Place compound butter on plastic wrap and wrap tightly. Refrigerate overnight.
Soften before spreading on canapés.
Canapé Fillings
The third layer of a canapé is typically a pureed ingredient that is then piped onto your foundation in a decorative manner. You can puree ingredients in a food processor or blender, or you can very finely chop the ingredients by hand and then mix to a consistent texture. Likewise, if you are using protein such as shrimp or lobster, you can just place a slice atop the foundation and then garnish it.There are a number of fillings you can use for canapés, including: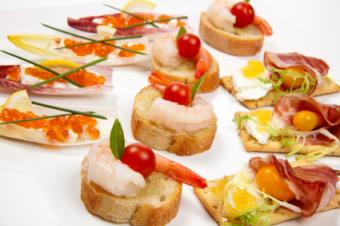 Paté
Boiled egg yolks mixed with a little mayonnaise
Smoked salmon
Shellfish
Puréed mushrooms and onions that have been sautéed
Roasted garlic
Lobster
Roasted vegetables
Ham
Canapé Garnishes
The garnish is the final, decorative touch atop your canapé. Garnishes can also add a little extra flavor to your canapé, such as a touch of heat with a small pepper or hint of brine with capers. Suggestions for garnishes include:
Caviar
Cornichons
Capers
Shaved truffles
Chopped olives
Peppers
Chopped herbs
Nuts
Greens, such as watercress or arugula
Avocado
Cherry tomatoes
Canapé Recipes
With so many wonderful ingredients, you can make a huge variety of canapés.
Mushroom Paté Canapés
Ingredients
1 baguette, sliced into thin rounds and toasted
1 package of herbed cream cheese, softened
2 tablespoons of olive oil
1 sweet onion, diced
1 pound crimini mushrooms, sliced
3 cloves of garlic, minced
1/4 cup dry red wine
1 teaspoon dried thyme
1/4 teaspoon fresh cracked black pepper
1/4 teaspoon salt
1 roasted pepper, sliced
Method
Spread baguette rounds with cream cheese and set aside.
In 12" sauté pan, heat olive oil over medium high heat.
When olive oil shimmers, add onions and cook until transparent, about 4-5 minutes.
Add mushrooms and allow them to sit in contact with the pan without stirring for about 4-5 minutes, until they brown on one side.
Continue cooking mushrooms, stirring, until they soften, another 2-3 minutes.
Add garlic and cook, stirring, until the garlic releases its scent - about 30 seconds.
Add red wine, scraping the bottom of the pan to release any browned bits into the wine. Add thyme.
Reduce heat to medium low and allow wine to simmer until it is reduced by about 2/3.
Transfer mushroom mixture to a food processor. Add salt and pepper. Leave the top chute out so steam can escape and cover it with a folded towel. Pulse several times for one-second pulses until ingredients are puréed.
Refrigerate mushroom mixture and allow it to cool.
When mushroom mixture is completely cool, transfer it to a pastry bag and pipe onto baguette rounds.
Top with a slice of roasted pepper.
Smoked Salmon Canapé
Ingredients
1 baguette, sliced into thin rounds and toasted
1 stick of unsalted butter, softened
3 tablespoons chopped fresh dill
12 ounces smoked salmon
1 jar capers, drained and rinsed
Method
Combine dill and butter in a bowl and mix thoroughly.
Spread butter on toasted baguette rounds.
Top with pieces of smoked salmon.
Garnish with capers.
Cheese Canapés Recipe
Ingredients
1 cup grated cheese, flavor(s) of your choice
1/4 teaspoon salt
1/4 teaspoon pepper
Few grains cayenne
6 slices of bread
Method
Toast bread and cut into circular pieces.
Sprinkle with a thick layer of grated cheese and season with salt and pepper.
Place each round on a baking sheet; broil until cheese is melted and bubbly.
Serve at once.
Minced Ham Canapés Recipe
Ingredients
1/2 cup minced ham
2 tablespoons butter
1 teaspoon chopped parsley
Bread slices
Method
Mix the ham, butter, and parsley to a smooth paste.
Cut the bread into circles; fry rounds in a little butter, browning both sides.
Evenly spread each round with the ham mixture and serve.
Small Bites for Parties
Canapés are easy to make and have a beautiful presentation, making them the perfect small bite for a party. Next time you have a shindig, try making a platter of these tasty treats for your guests.