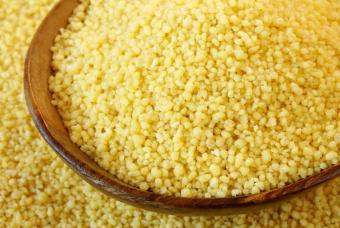 Couscous has many culinary uses. Cooks can use it in salads, stir into a pudding, top it with sauce, or serve it as a side dish. Best of all, basic couscous is very simple to make.
Basic Couscous
Couscous is small grains of semolina, a form of durum wheat. You can also find whole wheat couscous, made from the whole grain. Both are prepared the same way.
Steps for Making Basic Couscous
Couscous isn't cooked. It's placed in boiling water off the heat, and the water steams the tiny grains of wheat. To make basic couscous:
Use the basic proportion of 1 cup of water per 2/3 cup of couscous, which will yield roughly one cup of cooked couscous.
Measure the water into a medium-sized saucepan with a lid.
Bring the water to a boil.
Remove the water from the burner and stir in the couscous.
Place the lid on the saucepan and allow the couscous to sit in the hot water for five to ten minutes, until the couscous is soft and the water is absorbed.
Fluff the couscous with a fork.
Use this basic, unseasoned couscous in other recipes.
Mediterranean Couscous Salad
Couscous is used in Mediterranean and Middle Eastern cuisine. This cold couscous salad has classic Mediterranean flavors.
Serves 8
Ingredients
6 cups cooked couscous, cooled
1/2 cup oil-packed sun-dried tomatoes, drained
1 cup jarred artichoke hearts, drained and halved
1/2 cup sliced black olives, drained
1/4 cup pine nuts
8 ounces crumbled feta cheese
1/2 cup packed fresh basil, torn into pieces
3/4 cup extra virgin olive oil
1/4 cup freshly squeezed lemon juice
1/2 teaspoon lemon zest
4 cloves garlic, through a press
3 teaspoons chopped fresh oregano
Sea salt and fresh cracked black pepper, to taste
Instructions
In a large bowl, combine couscous, sun-dried tomatoes, artichoke hearts, black olives, pine nuts, and feta cheese.
In a small bowl, whisk together olive oil, lemon juice, lemon zest, garlic, and oregano. Taste and season with salt and pepper.
Pour the liquid mixture over salad and toss to combine. Adjust seasonings as needed.
Couscous Pilaf
Similar to rice pilaf, this warm side dish uses couscous in place of rice. It goes well with chicken or fish.
Serves 4
Ingredients
2 tablespoons olive oil
1/2 yellow onion, finely chopped
1 carrot, peeled and minced
3 green onions, finely chopped
3 cloves garlic, minced
1 cup chicken broth
2/3 cup couscous
2 tablespoons chopped parsley
Sea salt and fresh cracked black pepper
Instructions
In a large saucepan over medium-high heat, heat olive oil until it shimmers.
Add onion, carrot, and green onions and cook until vegetables soften, about five minutes.
Add garlic and cook until it is fragrant, about 30 seconds.
Stir in chicken broth and bring to a boil.
Remove from the heat and add the couscous. Cover the pan. Allow it to sit until couscous absorbs liquid and softens, five to ten minutes. Fluff with a fork.
Stir in parsley. Season to taste with salt and pepper.
Try Couscous
If you've never made couscous before, the basic method of preparation and recipes highlight how quick, easy, and versatile it is. Because it cooks in less than ten minutes, it may just become your weeknight go-to side dish.