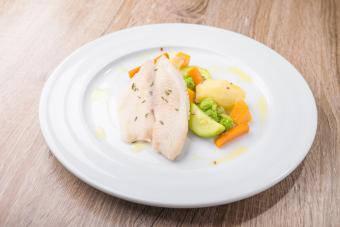 A flaky, flavorful piece of cod could be on your dinner plate tonight. These easy recipes will show you three different ways to cook this fish to perfection.
Boiled Cod Recipe
Contributed by Cheryl Cirelli, Event Planner
Boiling is one of the simplest ways to prepare cod fish; the seasonings and vinegar in the water add extra flavor. This recipe serves four to six people.
Ingredients
3 cups water
1 and 1/2 tablespoons salt
1 teaspoon apple cider vinegar
1/2 teaspoon dried basil
About 3 pounds of cod fillets
Fresh parsley for garnish
1 lemon cut into wedges
Instructions
In a large pot, add water, salt, vinegar and basil.
Stir to combine ingredients and bring to a boil.
Add the cod to the boiling mixture, then reduce the heat and simmer for 8 minutes.
Be careful not to bring the pot back to a boil because this can make the cod fall apart.
Using a large slotted spoon, carefully remove the fish from the pot and drain.
Place the cod on a large platter and garnish with fresh parsley and lemon wedges.
Steamed Cod Recipe
Contributed by Karen Frazier, Cookbook Author
Steamed cod is anything but boring when you combine wine, lemon juice, and dill in the mix. This recipe serves two to four people.
Ingredients
4 cod fillets
Salt and freshly cracked black pepper to taste
4 scallions, chopped
3 tablespoons chopped fresh parsley
1 teaspoon chopped fresh dill
1/2 teaspoon paprika
3 tablespoons freshly squeezed lemon juice
3 tablespoons dry white wine
Instructions
Preheat oven to 375 degrees Fahrenheit.
Create foil packets for each fillet, spray the bottoms where the fillets will rest, and center one piece of cod in each packet.
Season cod with salt and pepper.
Toss the scallions, parsley, and dill together.
Sprinkle some lemon juice, wine, and paprika over each fillet, and then top with the scallion mix.
Seal the packets to hold in liquids, place them on a cookie sheet, and bake for 30 minutes until fish flakes when forked.
Baked Cod Fish Recipe
Lemon and butter give this dish a luscious flavor. This recipe serves two to four people.
Ingredients
4 cod fillets
1 tablespoon lemon juice
2 tablespoons butter, melted
Salt and pepper to taste
Instructions
Preheat oven to 400 degrees Fahrenheit.
Rinse cod fillets and pat dry with paper towels.
Spray a baking sheet with non-stick spray and lay the fillets on it.
Combine the lemon juice and melted butter, and brush it over the surface of each fillet.
Lightly sprinkle salt and pepper on the fish to taste.
Bake for about 20 minutes or until it flakes with a fork.
Serving Suggestions
Cod fish is very versatile and can be served with a wide range of side dishes. For example:
Storing Leftovers
Cod is best when it's eaten immediately after cooking. If you happen to have leftovers, store them in an airtight container in the refrigerator for up to three days.
Eat More Cod
If you're trying to get more fish into your diet, these cod recipes will help you do it. They're reasonably easy to prepare, they taste great, and you can tweak each recipe with your favorite seasonings to create a custom dish. What are you waiting for? Try cooking some cod for your next dinner.