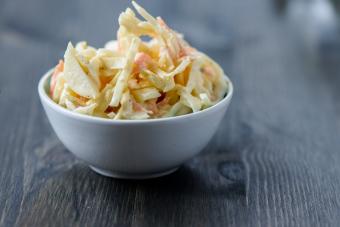 If you love the taste of KFC coleslaw but feel like eating it at home, you're in luck! The perfect KFC coleslaw copycat recipe is right at your fingertips.
Coleslaw Copycat Dressing Recipe
If you're cooking for a crowd, then follow the recipe as written; it serves 10. Otherwise, for a family meal you can halve the recipe below.
Ingredients
3/4 cups sugar
3/4 cups mayonnaise
1/4 cups whole milk
1/4 cups buttermilk
1/4 cups apple cider vinegar
1/2 teaspoon salt
1/8 teaspoon pepper
Instructions
Whisk all ingredients together until smooth. This will keep in the fridge for up to 5 days.
Yield: About 2 cups
KFC Coleslaw Recipe
This makes coleslaw for 10 people. Feel free to halve the recipe if you have fewer people to serve.
Ingredients
2 tablespoons chopped onions
1 1/2 heads of green cabbage, shredded
2 carrots, peeled and grated
1 recipe Coleslaw Copycat Dressing (above)
Instructions
In a bowl, combine the onions, cabbage, and carrots.
Toss to mix.
Stir in the dressing.
Serve chilled.
Servings: 10
Tips/Variations
Consider the following tips and variations.
Don't feel like shredding all that cabbage? In the slaw, replace the cabbage and carrots with 10 cups of pre-packaged coleslaw mix.
Make the dressing and slaw ahead, store them separately in the fridge, and toss them together just before serving.
In the dressing, replace the sugar with 1/2 cup of honey.
Choosing KFC Coleslaw
You don't have to visit KFC every time you're craving its coleslaw, as making a homemade copycat version is just as delicious.