Creative Pancake Ideas From Unique to Decadent
Pancakes are a beloved breakfast dish, but the basic pancake recipe can get boring fast. Luckily, there are many ways to dress up your hotcakes. Whether you're craving pancakes full of rich flavors like chocolate and cream, or you're looking for a refreshing fruity twist on your standard flapjacks, there are dozens to get creative with their flavors. From switching things up with purple macadamia nut and coconut topped pancakes to opting for a healthy veggie version, the ideas and recipes in this slideshow will spark your imagination and tempt your tastebuds for an irresistible meal!
Stuffed Pancakes With Strawberry Sauce and Mint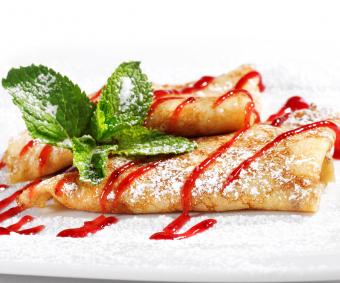 These stuffed pancakes with strawberry sauce fit the bill for an elegant weekend breakfast. To make them:
Whisk together one cup of flour and two eggs.
Gradually add in 1/2 cup of milk and 1/2 cup of water. Stir until smooth.
Pour into a frying pan (this batter is thin, so it's best to make these in a frying pan with sides rather than a griddle) and cook as normal. Stuff with a mixture of 3/4 cup ricotta mixed with 2 tablespoons sugar.
Drizzle with strawberry sauce, or any other dessert sauce to suit your taste, and garnish with a sprig of mint.
Pancakes Are Great Any Time of Day
Not only are pancakes a quintessential breakfast food, but pancakes work any time during the day. Whether you want plain old-fashioned pancakes, gluten-free pancakes or even vegan pancakes - there is a great recipe that is perfect for you and your family. Pancakes always pair with orange juice or milk, for a complete meal that's ready quickly.
Blueberry Pancakes
To spruce up your pancakes, add no more than one cup of blueberries to the batter of your standard pancakes. To get a good consistency, it's best to rinse and dry the blueberries before adding them. Want to get a little creative? Try adding about a tablespoon of lemon or orange zest to the pancake batter.
Banana Pancakes
Nothing is better than some good old-fashioned banana pancakes. Like from-the-oven banana bread, these are perfect for a chilly fall morning. Using your favorite pancake batter, add one cup of mashed bananas and cook as normal. Add sliced, fresh bananas for garnish and top with walnuts.
Variation: Instead of adding mashed banana to the batter, you can also add thinly sliced bananas. As the pancakes cook, the bananas will slightly caramelize. Drizzle these pancakes with caramel dessert syrup and garnish with whipped cream.
Filled Pancakes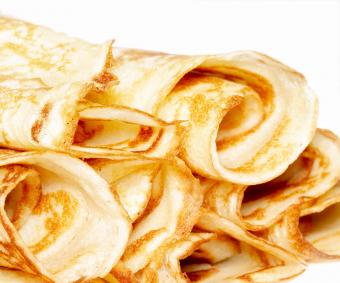 Make your pancake batter a little thinner and fill them with something delicious! If you're married to the idea of maple syrup on your pancakes, fill these with sausage or bacon for a savory option. If you want something a little sweeter, take three ounces of cream cheese and beat with one tablespoon of sugar and a dash of vanilla. Spread these on your pancakes, roll them up and then dip them in maple syrup.
Zucchini Pancakes
Who says pancakes must have a flour base? These savory pancakes are made of zucchini. To make these tasty creations:
Stir together two cups of grated zucchini, two large eggs, and two tablespoons of chopped green onions.
In a separate bowl, mix together one-half cup flour, one-quarter cup grated Parmesan cheese, one-half teaspoon baking powder, a pinch of salt and oregano.
Add the wet ingredients to the dry ones, and mix until the dry ingredients are moistened.
To cook the pancakes:
Heat about a tablespoon of vegetable oil on a skillet. Drop batter by spoonfuls in skillet and fry until golden.
Drizzle these with plain yogurt sauce.
Potato Pancakes
These potato pancakes are the perfect dinner recipe for a busy night. Make them from freshly grated potatoes or from leftover mashed potatoes for an easy, on-the-go kind of dinner. Look to top these with things like smoked salmon, sour cream and chives, or capers and creme fraiche.
Experiment With Shapes
Kids love pancakes in fun shapes. Make faces out of whipped cream and fruit. Cut pancakes into hearts, clouds, or moons, or pour your batter into animal shapes. To make shaped pancakes using a metal cookie cutter:
Spray the cookie cutter well with cooking spray.
Put cutter in the pan.
Add the batter into the cookie cutter, but be careful not to make the pancake too thick. Watch for the pancake batter to become bubbly.
Use tongs to remove the cookie cutter. Then quickly flip the pancake over to cook the other side.
The trick to making shapes easily is to flip quickly, and to make sure the first side is a nice dark, golden brown.
Chocolate Pancakes
Chocolate pancakes can be a great option for a special breakfast celebration. To make this decadent treat:
Combine one cup flour, two tablespoons of sugar, a pinch of salt, and two tablespoons cocoa powder.
In a separate bowl, whisk together one cup buttermilk, one egg, two tablespoons melted butter, and one teaspoon vanilla.
Cook as you normally would on a griddle, waiting for the top side to bubble before you flip the pancake. Top with fruit or whipped cream.
Go Wild With Toppings
You can top pancakes with just about anything! From whipped cream to fruit... get creative to take regular pancakes from 'meh' to 'whoa!' Ideas include: