While many people look to cakes as a light base for frosting, others like to add a bit of texture to their cakes with nuts. Nut cakes can be rich and decadent on their own, or topped with a variety of icings.
Pecan Nut Cake Recipe
This rich cake is dense and studded with pecan pieces. Try it finished with a caramel drizzle on top or plain.
Ingredients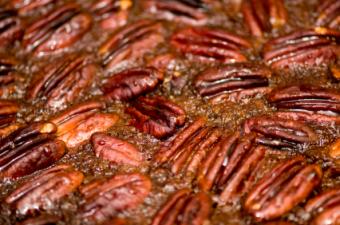 1 cup brown sugar
1 1/2 cups flour
1 teaspoon vanilla
1 cup pecans, chopped, plus pecans for topping
1 cup white sugar
1 cup vegetable oil
4 eggs
Instructions
Sift together the flour and sugar.
Stir in the eggs, oil and vanilla.
Fold the chopped pecans into the batter and pour into a greased 9 x 13 cake pan.
Top with a layer of whole pecans.
Bake at 350 degrees for 35 minutes or until set in the center.
Walnut and Raisin Cake Recipe
This bourbon soaked cake is perfect for the holidays. Use a light icing or glaze on top to finish.
Ingredients
6 eggs, separated
1 cup butter
2 cups sugar
1 teaspoon ground nutmeg
1 teaspoon salt
3 cups flour
2 cups walnuts finely chopped
1 1/2 cups raisins
1 cup bourbon
Instructions
Soak the raisins in the bourbon.
In a large bowl, beat the egg yolks with the butter and sugar until well combined.
Stir in the flour, nutmeg and salt.
In a separate bowl, beat the egg whites to the soft peak stage.
Fold the egg whites into the batter.
Gently stir in the walnuts, raisins and bourbon.
Pour into a greased Bundt cake pan and bake at 300 degrees for 30 minutes.
Lower the temperature to 275 and bake for an additional 2 to 2 1/2 hours until set in the middle and golden brown in color.
Hazelnut Cake Recipe
This cake has an inner surprise layer that adds a depth of flavor. Serve it sprinkled with confectioner's sugar on top.
Ingredients
1 cup warm butter
1 1/2 cups sugar
3 eggs
2 1/3 cups flour
1 1/4 cups sour cream
1 teaspoon vanilla
3/4 cup brown sugar
1/2 cup ground hazelnuts, plus 1 cup chopped hazelnuts for topping
1 teaspoon cinnamon
Instructions
Mix together the brown sugar, hazelnuts and cinnamon. Set mixture aside.
Beat together the butter and sugar.
Add the eggs one at a time, beating well between.
Fold in the flour and sour cream. Mix well.
Pour half the batter into a greased 8-inch cake pan.
Sprinkle the hazelnut mixture on top.
Pour the rest of the cake batter onto the hazelnut mixture, and sprinkle chopped nuts on top.
Bake at 350 degrees for 40 minutes or until set in the middle.
Selecting Nuts for Cakes
The nuts that are included in a nut cake can frequently be changed out for another. Doing so can lend a subtly different flavor and texture to a cake. Pecans, for example, have a slightly sweet taste to them, while walnuts may be a little more bitter. Try substituting one nut for another in most recipes to help make the recipe your own. Some favorite nuts added to cakes include:
Walnuts
Almonds
Pecans
Peanuts
Coconut
Hickory nuts
Recipe Tips
No matter what type of cake you're making, from a German almond cake to a chocolate walnut cake, these tips can help improve your finished product.
Nuts are usually minced or chopped before they are added to the batter of the nut cake recipes; don't forget to save a few to garnish the top. Whether you plan to frost your cake or not, the addition of walnut halves can add a delightful garnish.
Chop or grind your nuts fresh to help improve their flavor.
Combine a variety of nuts in one recipe, using different sized pieces as well to add additional flavor and texture.
Almost any cake recipe, including boxed cakes, can be made into a unique eating experience turning it into a nut cake recipe. Usually a half cup to full cup is sufficient to add that special flavor and bit of texture to the batter.
Include a little almond extract to any nut cake to help enhance the flavor.
Finish off a frosted cake by pressing minced or chopped nuts into the sides of the frosting.
When entertaining, remember that many people are allergic to nuts, especially peanuts. Let you guests know you've included nuts in your recipes and be prepared to serve allergy sufferers an alternative dessert.
Go Nuts
Whether you are crazy for nuts or simply looking for a little variety, a nut cake can really add something extra to your table. Try one of these recipes, or adapt one of your own to create something special.