If pork chops are the next item on your dinner menu, knowing how to cook them properly (so they don't turn out dry) is a must. Pork chops are simple to prepare when you have the right instructions on hand. Regardless of the cooking method you choose, you can enjoy juicy, flavorful pork chops day or night!
Brining Is Best for Pork Chops
Soaking pork chops in a brine is one way to ensure it stays moist and juicy. Top chefs agree that the key to perfect pork chops is to avoid overcooking, soak pork in marinade or brine ahead of time, and cook with liquid to prevent dryness.
Basic Brine Ingredients
You can use the following basic brine recipe (and add additional seasonings of your choice if need be):
3 cups water
3 tablespoons salt
2 garlic cloves, minced or smashed
Make sure your pork chops are sliced into 3/4-inch to 1-inch slices before soaking them in brine (in the fridge in an airtight container) for at least 4 to 6 hours.
Other (Optional) Brine Add-Ins
Mix and match from the following list to spice up the flavor of your brine:
1/2 teaspoon black pepper
1 to 2 bay leaves
3 tablespoons brown sugar or molasses
3 tablespoons soy sauce
1 tablespoon Worcestershire sauce
1 teaspoon allspice, ground ginger, or cinnamon
2 teaspoons vanilla extract
1/2 cup rum or whisky
2 cups white wine
1 cup white wine vinegar
1 tablespoon steak sauce
1/4 cup minced onion
1 tablespoon whole-grain mustard
1 cup apple cider, dill pickle juice, or sweet tea
2 tablespoons canola oil
Additional Pork Chop Ingredients
Use the following ingredients (in addition to brine) when preparing juicy pork chops:
4 to 6 center cut boneless pork chops
2 tablespoons canola oil
Salt and pepper to taste
Left-over brine
Servings: 4 to 6
Methods for Cooking
Regardless of the cooking method, the chops should be cooked until the internal temperature is 145 degrees Fahrenheit.
Stove Top Instructions
You can cook perfect pork chops when using your stove top. Simply follow the instructions below:
Soak pork chops in brine (in a sealed container) in the fridge for at least 4 to 6 hours.
Heat skillet to medium-high heat and add canola oil.
Place pork chops in skillet and season with salt and pepper.
Cook pork chops in skillet for about 8 minutes (4 minutes per side) until golden brown.
Pour excess pan juices over pork chops before serving.
Baking Instructions
Use the same ingredients for oven-baked pork chops as you did for stove top pork and follow these instructions to keep your pork moist and flavorful:
Seal the pork chops with brine in the refrigerator for 4 to 6 hours.
Heat oven to 350 degrees Fahrenheit.
Place pork chops in medium-sized baking dish and brush with canola oil.
Season with salt and pepper, and top with extra brine until well coated.
Optional: Top with onion slices for extra flavor.
Bake at 350 degrees Fahrenheit for about 45 minutes (flipping over half way through).
Foil Grilling Instructions
When you're in the mood to grill, use foil for your pork chops to avoid dryness.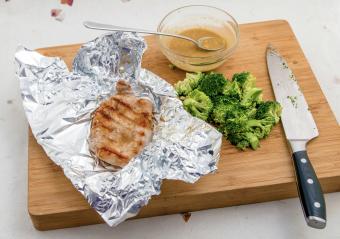 Soak pork chops in brine for 4 to 6 hours.
Place pork chops in foil.
Brush with excess brine and wrap up the foil (fold the ends to seal).
Cook on the grill over medium-low heat for 15 to 20 minutes.
Flavorful Boneless Pork Chops
As long as you follow a few simple steps, boneless pork chops should turn out plenty moist and flavorful -- regardless of which cooking technique or pork chop recipe you choose. Try brining the chops tonight and taste the difference it makes.