It can be awfully intimidating to step foot in the kitchen when you don't know your thyme from your tarragon. The good news is that a fantastic home-cooked meal doesn't need to be difficult or complicated in order to be delicious. With one pot (or pan) and just five ingredients or less, you can have some great eats - perfect for when you have neither the time nor talent for something from the pages of Martha Stewart Living.
1. Easy One-Pot Beef Stew
Perfect for those cold winter nights when all you want is a big bowl of warm comfort, a very hearty and satisfying beef stew only takes a few minutes of quick prep before you toss everything in the slow cooker and let that gentle heat work its magic.
Ingredients:
1 pound cubed beef chuck
1/4 cup all-purpose flour
2 cans diced tomatoes
3/4 pound small potatoes, quartered
1/2 pound chopped carrots
Instructions:
Gently coat the beef in the flour by giving it a toss.
Add the beef, tomatoes, potatoes and carrots to the slow cooker, along with a 1/2 cup of water.
Stir the ingredients together, adding salt and pepper.
Cook on high for about 5 hours.
Serve with some bread to sop up the delicious juices.
2. Lemon Chicken Skillet
Are you in love with the citrus flavor of orange chicken, but want something simpler and healthier? You only need a few minutes (and four ingredients) to put together a praise-worthy dish for your supper. The slightly sour and tangy sweetness is a great pick-me-up without the added weight of breading or deep-frying. Pick up pre-diced or pre-sliced chicken at the grocery store to save on the prep work.
Ingredients:
1 sliced chicken breast
Chinese duck sauce
1 to 2 whole lemons, sliced
Scallions, chopped
Instructions:
Pre-heat your frying pan, skillet or wok to medium, adding a little bit of oil when it's ready.
Toss in the chicken and cook to a light golden-brown.
Pour in some Chinese duck sauce, available in the Asian aisle at most supermarkets.
Stir in lemon slices and let the sauce and lemons simmer until the chicken is fully cooked.
Remove from heat and pour onto dish.
Garnish with scallions (or cilantro or parsley).
Serve with white rice.
3. Asian Fried Rice
Fried rice is one of those dishes where you can almost do no wrong. Open up your fridge and pantry, see what you've got, and throw it all into the pan. The recipe below is just one variation and you can swap in whatever meat or other ingredients you like. If you're feeling ambitious, you could also fancy it up with some sautéed shrimp.
Ingredients:
2 cups leftover white rice
3 slices of bacon
1 cup frozen vegetable mix
Soy sauce
Taiwanese five-spice powder
Instructions:
Pre-heat your frying pan.
Fry bacon until crispy.
Remove bacon from pan and place on a paper towel to soak up excess fat, but keep what fat you can in the frying pan itself - no need for additional cooking oil!
Throw in white rice. Leftover rice is great for fried rice, but might need a little rehydration. A little water can do the trick if the bacon fat isn't already good enough.
Toss in frozen vegetable mix. The generic peas, carrots and corn is a good mixture, but you can use whatever you have on hand.
Cook for a few minutes, stirring occasionally.
Add soy sauce to your preference.
Sprinkle Taiwanese five-spice powder - don't use too much! It can be quite potent. If five-spice is not available in your area, experiment with other spices, or just use the basic salt and pepper.
Crumble crispy bacon back into the pan.
Toss and serve.
4. Cream of Potato Leek Soup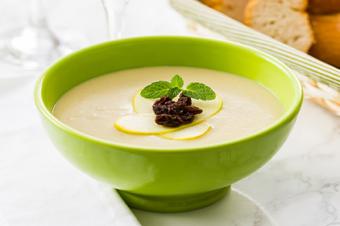 A real hearty soup that drinks like a meal, this cream of potato leek soup is a far healthier option than nuking another bowl of the canned stuff. It's a lot easier than you might think and the whole thing can be cooked in just a single pot. You will need a blender or a hand blender to purée the soup, however.
Ingredients:
2 thick slices pancetta (Italian bacon, can be substituted for regular bacon), chopped into small pieces
1/2 cup whole cream
1 pound yellow potatoes, peeled and cut into large pieces
1 large leek, chopped (mostly white, a little green for color and texture)
Instructions:
Heat a medium-sized pot over medium heat.
Toss in the pancetta and allow to brown.
Add your chopped leek and sauté in the pork fat from the pancetta for about two minutes.
Add potatoes, along with 4 cups of water.
Simmer until potatoes are soft, about 25 minutes, stirring occasionally.
Pour mixture into a blender (or keep in the pot if using a hand blender) and purée.
Add in the whole cream with a pinch of salt and blend again.
Serve piping hot and garnish with cilantro if you're feeling fancy.
5. Ooey Gooey Cheesy Quesadillas
If you're looking for a quick and easy vegetarian option that's packed with plenty of protein, this is a great recipe. It's best if you've already got some sour cream and salsa in the fridge, but the "dry" form can be delicious too. Substitute the corn niblets for whatever you might want, like chopped onions or bell peppers. It's entirely up to you.
Ingredients:
6 flour tortillas
1 can black beans, drained
1 cup shredded cheese
1 can corn niblets, drained
Instructions:
Place your skillet over medium heat and add a tablespoon of cooking oil.
Toss in the beans and allow to warm for about a minute.
Add in corn niblets and stir, cooking until heated throughout.
(Optional) Briefly heat tortillas in microwave or toaster oven to improve malleability.
Spread corn and bean mixture over one half of each tortilla.
Top with shredded cheese.
Fold tortillas over to form enclosed semi-circles.
Add cooking oil to skillet.
Placed constructed quesadillas (one at a time) in the skillet, turning once.
When both sides are lightly browned and the cheese has melted, you're good to go!
Home Cooking Made Easy
The more often you cook at home, the more confident you'll become. And over time, your pantry just might end up stocked with more than just a half-empty jar of mayonnaise and some extra ketchup packets from the fast food joint down the street. It all starts with just one pot and a handful ingredients, and you'll be the next Gordon Ramsay in no time. Maybe.