Sriracha, Anyone?
You've heard that Sriracha goes with nearly anything-soup, salad, pizza, eggs, etc. Adding the sauce to savory dishes to up the heat is no-brainer, but what about sweet treats, syrups, or even beer? It seems that some people are going a little Sriracha crazy, but the question is-does it actually pair well with anything? You be the judge.
Sriracha Fudge Popsicles
More Details"
What cools you down while heating up your taste buds? A Sriracha fudge popsicle! It's like a frozen Mexican hot chocolate on a stick!
Sesame Sriracha Brittle
Peanut brittle is a classic candy, but this sesame Sriracha brittle recipe updates this old-school treat by swapping in sesame seeds and turning up the heat.
Whisky Sriracha Candy
Here's one recipe you definitely don't want your kids to try, whisky Sriracha candy. Instead, invite your lady friends over and savor the variety of flavors this recipe offers. Just don't forget to save some of that whisky to sip on along with it!
Sriracha Macarons
More Details"
Ok, who doesn't like French macarons? They're usually super-sweet and light as air. However, these unlikely Sriracha macarons kick things up a notch. These cookies have sugar, spice, and everything nice.
Sriracha Lollipops
More Details"
This recipe is a little out there and not for the faint of heart. However, a Sriracha lollipop might be the perfect party favor to hand out to your unsavory co-workers on their birthdays. Just imagine their faces when they bite into these pops!
Fried Egg, Sriracha, and Peanut Butter Toasts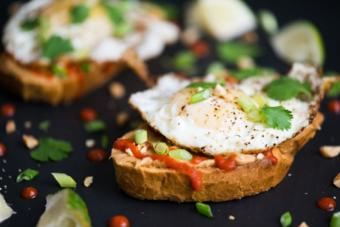 More Details"
Say, what? Fried egg and Sriracha sounds like a good match but...peanut butter? This recipe for fried egg, sriracha, and PB toasts could leave you scratching your head, but why not give it the ol' college try? This unlikely combination might win you over.
Sriracha Cupcakes
More Details"
Sriracha cupcakes sound crazy; after all, who wants a burning mouth to contend with during dessert? However, give this recipe a try, as it turns out that fluffy chocolate cake provides the perfect counter-point to Sriracha and helps neutralize its spice.
Sriracha Ice Cream Sandwich
More Details"
A Sriracha ice cream sandwich with Thai basil ice cream certainly sounds like the kind of crazy ice cream concotion you'd find at a fancy restaurant, but if you want to feel like a Master Chef at home, here's your chance! The recipe is actually fairly simple and calls for pre-made ice cream, so if you can make homemade cookies, you can make this dessert.
Fried Chicken and Waffles with Sriracha Syrup
More Details"
Doesn't this fried chicken and waffles with Sriracha syrup recipe sound amazing? It's your standard chicken and waffles with a punch of your favorite hot sauce-Sriracha! And the best part is, you don't even need to travel to the South! You can whip it up in your own kitchen at home.
Cocky Rooster
More Details"
Love a michelada? Than you might love this Cocky Rooster beer recipe. Although spicy beer is not a new phenomenon, it's typically brewed together ensuring the right proportions. However, this recipe calls for you to add Sriracha after the brewing process. And let's not forget that there is also Maggi sauce and jalapeno making an appearance here. Instead of grabbing a cool one, you'll definitely be opting for a hot one with this recipe.
Sriracha Jello Shot
More Details"
If you're looking for a fun way to liven up a party and communicate to your guests the casualness of the evening, why not serve these Sriracha jello shots? Not only do they look like little Sriracha bottles, but your guests will no doubt be unexpectedly delighted by the flavor.
Sauerkraut and Sriracha Pizza
More Details"
Sauerkraut is an ingredient that people are very divisive about. You either love it or you hate. Sriracha is the same way, so it makes sense that someone would combine these two in a way that you're either going to go ape over or absolutely detest. So, if you're a fan of sauerkraut and Sriracha, then you may fall in love with this recipe, which the creator describes as a cross between a Reuben sandwich and an Asian stir-fry pizza.