Free Ideas for Dinner Tonight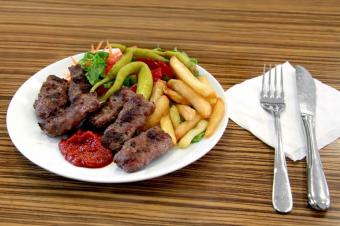 Are you looking for ideas for dinner tonight? You're in luck! We have several complete meal ideas.
Meatball Dinner
Meatballs
French fries
Assorted pickles
Apple pie
Tacos Ole
Tacos are fast, easy, and fun, so serve some up today.
Tacos
Mexican rice
Black beans
Flan
Loaded Nachos
It doesn't get any faster than nachos. Simply start with tortilla chips and add your favorite toppings:
Refried beans
Ground beef
Chicken breast
Sour cream
Cheese
Salsa
Guacamole
Olives
Pasta Paradise
For a meal that is much simpler than it appears, make pasta primavera. Simply saute assorted veggies in olive oil, toss with fettuccine, and top with Parmesan.
Fettuccine with peppers and tomatoes
Steamed mixed vegetables
Rolls
Cheesecake
Sandwiches for Dinner
Dinner doesn't always need to be complicated. It's okay to have sandwiches for dinner sometimes. Just add side items for a complete meal.
Tuna melt
Potato wedges
Green salad
Jello with whipped cream
Fast and Simple
Looking for ideas for dinner tonight that are deceptively fast and easy? Look no further.
Grilled chicken breast
Steamed broccoli and bell peppers
Side salad
Lemon cheesecake
Sensational Seafood
Salmon is fabulously healthy. Even better, it's delicious! This meal is fancy enough for guests, but it's perfect for your family as well.
Salmon steak
Sauteed mushrooms
Baby carrots
Snow peas
Roasted potatoes
Light Dinner
Sometimes you need something light and easy. If that's your mood tonight, go for a simple salad.
Salad: mixed greens, tomatoes, carrot slivers
Top with grilled chicken
Crusty bread
Bowl of fresh fruit