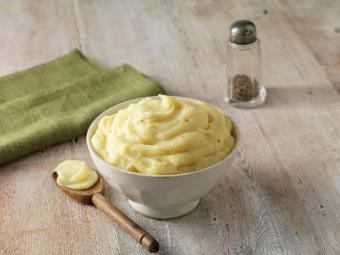 Ingredients
This recipe serves 4.
4 Russet potatoes, peeled and cut into cubes
6 tablespoons vegan butter, melted
2 tablespoons plain, unsweetened non-dairy milk
1 teaspoon sea salt
1/8 teaspoon freshly cracked black pepper
Instructions
In a large pot, cover the potatoes with water. Cover and bring to a simmer on medium-high heat. Simmer until the potatoes are soft, about 15 minutes.
Drain the potatoes thoroughly. Using a potato ricer and working in batches, press the potatoes through the ricer into a bowl.
Stir in the melted vegan butter, stirring until just combined. Stir in the milk, salt, and pepper. Taste and adjust seasoning as needed.
Variations
Try the following variations:
Create a vegan smashed garlic potato by replacing the Russet potatoes with 2 pounds of whole baby red potatoes, unpeeled. Add 3 whole cloves of peeled garlic to the water with the potatoes. Boil until soft and smash with the butter, milk, salt, and pepper with a potato masher, leaving them a little lumpy. Stir in 2 tablespoons of chopped, fresh chives and 1/4 cup of grated vegan cheese just before serving.
For roasted garlic whipped potatoes, cut the top off a bulb of garlic, put it in a small rimmed pan, and drizzle it with olive oil. Cover it with foil and bake in a preheated 350 degree oven until the garlic is soft, about an hour. Allow the garlic to cool, and squeeze the soften garlic from the skin into a bowl. Add the cooked russet potatoes, the butter, milk, salt, and pepper. Using an electric mixer, whip until the potatoes are fluffy but not gluey.