Holiday Cooking Interview with Patrick Mooney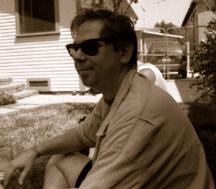 With the holidays fast-approaching, Chef Patrick Mooney, the Mad Baker, has plenty going on in his kitchen. It turns out he likes it low-key and personal, something many people will envy as they try to time their meals just right for family gatherings.
Traditional Holiday Cooking Plans
LoveToKnow (LTK): What holiday did you celebrate growing up?
Patrick Mooney (PM): Christmas was always a big deal at my folk's house. My mom would make what seemed like an endless array of cookies. I specialized in rosettes, these really light, deep fried shells that I would sprinkle with 10x sugar. And there was always struffoli, which are little fried dough nuggets covered in honey and multi-colored sprinkles. We always had all sorts of cookies. One recipe, the chocolate snowballs, has been lost and I mourn it's passing. Chocolate spice cookies and ginger spice cookies are mandatory to my holiday celebration.
LTK: How do you celebrate now?
PM: I still love Christmas and I love to make all sorts of holiday type stuff. In general, most people demand a turkey for the big holiday meal but at my folk's house there was always some kind of seafood and usually manicotti.
For me, I love duck. I will offer people duck rather than turkey. But, sadly, I tend to get stuck cooking turkey. I think it's because I dislike it so much that I tend to make it really well. Strange, but true.
LTK: So what are your holiday cooking plans this year?
PM: I work at a local assisted living facility and at Christmas we have a large banquet style meal for the residents and their families. The whole kitchen staff is involved and we all pitch in with the cooking and serving. There is usually turkey, prime rib, salmon, and just about every side dish you could imagine.
Outside of work, I'll probably be just cooking a small meal for me and Sharon, my girlfriend. Since I have Christmas day off, I'll probably be making a big breakfast.
Memorable Meal Tips
LTK: We always imagine holiday dinners with a lot of family around. What about people who are hosting and will just have their usual family around? Any tips on how to make a memorable meal that won't include a huge turkey with five side dishes?
PM: My closest relative is 500 miles away and my girlfriend's folks will be in Colorado, so I'll be having a small dinner for two at home. Intimate Christmas dinners are great. If you are just having the immediate family, I'd recommend going with a combination of new and traditional. The great thing about cooking for a small number of people is that you get the chance to cook more involved recipes. I think part of the reason that turkey became so popular at large holiday dinners is that it feeds a lot of people with just a bit of preparation. Turkeys are popped into the oven and they just take care of themselves, freeing the cook to work on the rest of the dinner, but with a smaller group of people you can look into different alternatives.
Depending on the size of your family you might want to consider cooking a goose rather than a turkey. If you want to stick with a bird theme, a quail served to each person is very nice. Some Victorian-era desserts like a traditional steamed pudding would be a fun way to end the meal and, of course, if you're cooking for just a few people rather than a large group, you can sauté the sides instead of making large casseroles.
The Best Cookies Recipe
LTK: Will you share a favorite holiday recipe with readers?
PM: I was recently looking through a 1950s-era second-hand cookbook that a friend had given me. The recipes and food pictures are classic and old books are a great place to get new ideas. I was paging through the book and found a slip of paper with a handwritten recipe. The top of the paper said "These are the best cookies" and the recipe seemed like it would work.
I took the recipe in to work to try it out. A recipe labeled "the best" in a professional kitchen gets a lot of attention, but luckily for me, the cookies turned out great. So here is the recipe for the best cookies.
Ingredients
1 cup butter
1 cup sugar
1 cup brown sugar, firmly packed
1 egg
1 cup vegetable oil
1 cup rolled oats
1 cup crushed corn flakes
1/2 cup shredded coconut
1/2 cup chopped pecans
3 1/2 cups sifted all purpose flour
1 teaspoon baking soda
1 teaspoon table salt
1 teaspoon vanilla
Instructions
Preheat your oven to 325 degrees.
Cream the butter and sugars until fluffy.
Add the egg and mix well. Then add the oil.
Add the corn flakes, oats, coconut, pecans, flour, baking soda, and salt.
Mix well.
Form the dough into smallish balls, about the size of a walnut.
Place on a cookie sheet that has been lined with parchment paper.
Flatten with a fork.
Bake for 12 minutes.
These cookies are very fun, they are almost like a lot of other cookies: they are kind of like shortbread, kind of like pecan sandies, kind of like peanut butter cookies. I would suggest sifting the dry ingredients all together so the baking soda is more evenly distributed in the dough.