Eggless breakfast recipes can be hard to come by, but they're a necessity for vegans. Morning treats such as pancakes, stratas, waffles, muffins, and coffee cakes most often come from egg-based batters, so vegans may be left nibbling toast at brunches and breakfast buffets. Eggs are used because they act as a leavener and emulsifier in batters, and they also improve the taste in many recipes by adding fat. If you can find dairy-free ingredients that fulfill those purposes, you can prepare eggless breakfast recipes anytime!
Egg-Free Breakfast Recipes
Each of these recipes is one step beyond the traditional cereal and toast, so they fit whether it's for one special morning all by yourself or a brunch party with friends.
Banana Vegan Waffles and Pancakes
This batter makes four to six large waffles or about 12 pancakes.
Ingredients
2 ripe bananas, one mashed and one thinly sliced
2 c. soy milk, rice milk, coconut milk, or other dairy-free milk
1 tsp. vanilla extract
1/2 c. rolled oats
3/4 c. all-purpose flour
3/4 c. whole-wheat flour
1 T. baking powder
1 tsp. cinnamon
1/2 tsp. nutmeg (optional)
Process
Preheat the griddle, frying pan, or waffle iron.
In a small bowl, whisk mashed banana with milk and vanilla extract to combine. Reserve the sliced banana.
In a large bowl, whisk oats with the flour, baking powder, cinnamon, and nutmeg. Make a well in the center of the dry ingredients, and pour in wet ingredients.
Use a spatula or wooden spoon to mix the batter until it is barely moistened. A few lumps are OK and even preferable.
Pour batter onto the waffle iron or griddle, and top each portion of batter with sliced banana.
Serve the pancakes or waffles while they're still hot.
Vegan Berry Muffins
This batter makes approximately a dozen muffins. You can also use it to make one full loaf of tea bread--bake for 45 to 50 minutes instead of 25.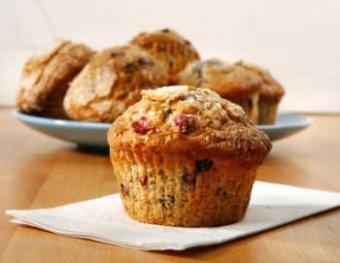 Ingredients
Cooking spray or muffin cups
1/4 c. margarine or vegan "butter"
1 c. sugar
1/2 c. applesauce
1 tsp. vanilla extract
2/3 c. soy milk, rice milk, coconut milk, or other dairy-free milk
1/2 tsp. salt
1 1/2 c. all-purpose flour
1/2 c. whole-wheat flour
1 T. baking powder
1 c. fresh or frozen blueberries
1 c. fresh or frozen raspberries
Process
Preheat your oven to 350 degrees Fahrenheit. If using frozen berries, let them sit at room temperature for at least 15 minutes before adding them to the batter.
Coat 12 muffin cups with cooking spray or line each cup with a paper liner.
In a large bowl, cream margarine or "butter" together with sugar. Stir in the applesauce, vanilla extract, and milk.
In a separate bowl, whisk together the flours and baking powder. Stir dry ingredients into the wet batter just until moistened.
Fold berries into the batter, and distribute the batter evenly among the muffin cups.
Bake at 350 degrees for 25 minutes or until the muffins are golden brown at the edges. Let them sit in the pan to cool for 10 to 15 minutes before you unmold them. Cool the muffins on a wire rack.
Vegan Steel-Cut Oats
Prepared in a slow cooker, this recipe makes enough oatmeal to serve four people.
Ingredients
1 c. uncooked steel-cut oats
4 c. soy milk, rice milk, coconut milk, or other dairy-free milk
1/2 c. toasted pecans or toasted walnuts
1/2 c. raisins
2 small Granny Smith apples, cored, peeled, and cubed
1/2 c. brown sugar
2 tsp. cinnamon
1 tsp. nutmeg
1 2-inch cinnamon stick
1/4 tsp. salt
1 T. margarine or vegan "butter"
Process
Combine all ingredients in the bowl of a slow cooker or crock pot. Mix thoroughly, and set the machine to low. Let oats cook for four to six hours or until they have achieved the desired tenderness.
Breakfast Favorites Are Still on the Menu
Being committed to a vegetarian or vegan lifestyle doesn't mean you can't still have some of your favorite breakfast food. Waffles, pancakes, muffins, and a bowl of steamy oats are all still on your menu when you use these delicious recipes. Give them all a try.