If you really want to treat your mom right this Mother's Day, dig out a few easy Mothers Day cake recipes and get baking! A sweet, delicious cake is the perfect way to top off a nice holiday meal, and making it won't take more than an hour or two of your time. No matter what flavors your mom likes best, your home-baked cake can serve as a beautiful gift to remind her of just how special she is.
Easy Cakes for Mom's Special Day
Mother's Day arrives in the springtime, when flowers are blooming and farmers' markets are just beginning to get back into the swing of things with the advent of warmer weather. It's a perfect time to celebrate fresh, clean flavors if your mom is a fan of fresh fruit.
White Chocolate Strawberry Cheesecake Recipe
This cheesecake has bright spring flavors coupled with a rich, creamy batter.
Ingredients
2 c. ginger or molasses cookie crumbs
5 T. plus 1/2 c. granulated sugar
1/2 stick butter, melted
20 oz. fresh strawberries
2 tsp. cornstarch
1/2 c. water
2 c. white-chocolate chips
1/2 c. half-and-half
3 (8-oz.) packages Neufchatel cheese (1/3-less-fat cream cheese), softened
3 eggs
1 tsp. vanilla extract
Directions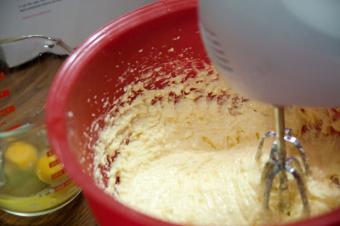 Wrap a large piece of aluminum foil around the bottom of a 9-inch springform pan. Combine cookie crumbs, 3 T. sugar, and the melted butter in a medium bowl. Press the cookie mixture into the bottom of the pan.
Wash and core half the strawberries and pat them dry. Slice them into very small, thin slices, or pulse them in a food processor a couple of times.
Place the strawberries, 2 T. sugar, cornstarch, and water in a saucepan. Bring the mixture to a boil and continue boiling for 5 minutes or until the sauce thickens.
Preheat the oven to 325 degrees Fahrenheit. Place the white-chocolate chips and half-and-half in a microwave-safe bowl and microwave on HIGH for 1 minute. Stir the mixture with a spatula. Continue microwaving at 20- to 30-second intervals until the mixture is completely smooth.
In a large bowl, mix the softened Neufchatel cheese and 1/2 c. sugar with an electric mixer until smooth. Add the eggs one at a time, beating after each addition. Blend in the vanilla extract and white-chocolate mixture.
Pour half of the batter over the cookie-crumb crust and spoon 3 T. of the strawberry sauce over the batter. Pour the rest of the batter into the pan and spoon 3 T. more sauce on top. Swirl the batter with a knife to make it look marbled.
Place the springform pan in a large, oven-safe casserole pan, and pour hot water into the pan to a depth of about 1 inch. Bake the cheesecake in the water bath for 50 to 55 minutes or until the filling is set. Turn off the oven and let the cheesecake remain sitting in the water bath for an additional hour.
Let the cheesecake cool completely. Wash and core the other half of the strawberries and pat them dry. Arrange them on top of the cheesecake in a decorative pattern.
Cool the cheesecake for at least 8 hours before serving. Serve any remaining strawberry sauce with the cake.
Rich Chocolate Cake Recipe
This just might be the easiest of all easy Mothers Day cake recipes you can find! It has a rich flavor and a moist texture that is sure to satisfy any hardcore chocolate lover.
Ingredients
1 (18.25-ounce) package dark-chocolate cake mix
1 (3.9-ounce) package instant chocolate-pudding mix
2 c. low-fat sour cream
3 eggs
1/3 c. canola oil
1/2 c. Kahlua or coffee liqueur
2 c. bittersweet chocolate chips or chocolate chunks
Directions
Preheat oven to 350 degrees Fahrenheit. Lightly butter a 10-inch Bundt pan and sprinkle the pan with flour.
Beat the eggs lightly. Combine the cake mix, pudding mix, sour cream, eggs, oil, and Kahlua or coffee liqueur in a large bowl. Beat with an electric mixer until the ingredients are well combined. Fold in the bittersweet chocolate chips or chocolate chunks, and spoon the batter into the Bundt pan.
Bake the cake for 1 hour or until a toothpick inserted in the top comes out clean. Cool the cake for 10 minutes in the pan, then turn it out and cool it completely on a wire rack before serving.
A Sweet Way to Honor Mom
Moms are always the ones who bake cakes for everyone else. This time, you can be the one who bakes a delicious cake for her to show her how much you love and appreciate her.