Popsicles make the perfect refreshing snack, especially during sweltering summer months. While you can certainly buy ready-made popsicles, preparing your own using mouth-watering recipes means meeting taste preferences and saving money.
Blueberry Raspberry Mini Pops
Get your daily dose of antioxidants by trying this sweet blueberry and raspberry mini popsicle recipe. These mini pops are perfect for little mouths.
Yield: Approximately 16 mini popsicles
Ingredients
2 cups blueberries, washed and drained
1 cup raspberries, washed and drained
1 cup raspberry juice (or favorite fruit juice of your choice)
1 teaspoon lemon juice
Directions
Blend all ingredients in food processor or blender until smooth.
Pour mixture into 16 mini molds (or small Dixie cups) and put wooden sticks in the centers of each popsicle.
Place pops in freezer for about 3 hours; remove from molds and serve frozen.
Almond Banana Yogurt Pops
Give your popsicles a boost of protein by choosing almond banana yogurt pops instead of regular popsicles. It's hard to believe this sweet treat is actually healthy for you.
Yield: 8 popsicles
Ingredients
3 cups vanilla (or your favorite fruity flavor) Greek yogurt
1 teaspoon cinnamon
8 bananas
1 cup chopped almonds
Directions
Place Greek yogurt and cinnamon in a medium-sized bowl and mix well.
Insert wooden sticks into each peeled banana.
Put crushed almonds on a plate and spread out evenly. Set aside.
Dip bananas in yogurt and cinnamon mixture until fully coated.
Lightly roll each banana in the chopped almonds.
Place banana-sicles in freezer for 2 to 3 hours on a parchment lined sheet pan.
Serve frozen.
Coffee and Cream Pops
Get a quick boost of energy - and curb sweet cravings - by choosing coffee and cream pops as your next homemade popsicle recipe.
Yield: Approximately 10 popsicles
Ingredients
3 cups fresh brewed cappuccino
½ cup half and half
½ cup sugar
Directions
Combine all ingredients together in medium-sized bowl, and mix well.
Pour mixture into large popsicle molds
Add a wooden stick to each popsicle.
Freeze 2 to 3 hours, or until solid.
Avocado Pops
Add heart-healthy fats and vitamins to your meal plan by making mouth-watering avocado popsicles for your next nutritious snack.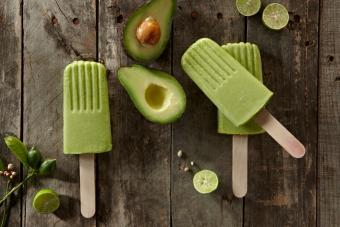 Yield: Approximately 10 pops
Ingredients
3 medium ripe avocados
1 ½ cups almond milk
4 tablespoons sweetened condensed milk
1 teaspoon agave syrup
Directions
Mix all ingredients together in blender or food processor until smooth.
Pour mixture in popsicle molds, and insert wooden sticks.
Freeze for about 3 hours or until solid.
Coconut Matcha Pops
If you're a green tea lover, this coconut matcha popsicle recipe is for you. You'll be coming back for seconds every time, as will your friends and family.
Yield: Approximately 8 popsicles
Ingredients
1 ½ cups coconut milk
½ cup almond milk
3 teaspoons matcha powder
1 tablespoon agave nectar
Directions
Whisk all ingredients together in small mixing bowl until smooth.
Pour mixture into popsicle molds, and insert wooden sticks.
Freeze popsicles for about 3 hours.
Nutritious and Fun Snack Options
Keeping a few homemade popsicle recipes handy is an easy way to meet nutrient needs in a fun way for you and your family. Mix and match recipe ingredients based on your food preferences, and you'll never be bored at snack time again.