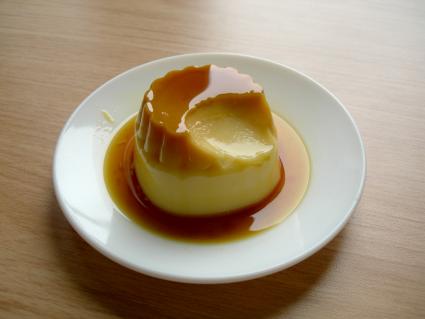 Ingredients for Flan Recipe
1 cup plus 1/2 cup sugar
6 large eggs, beaten
1-14 ounce can sweetened condensed milk
2-13 ounce cans evaporated milk
1 teaspoon vanilla
Instructions
Pour 1 cup of sugar into a pan on the stove.
Cook the sugar over medium heat, stirring constantly until the sugar caramelizes.
Pour the caramel into a mold, swirling it around to coat the sides. If the caramel begins to harden, reheat it until it softens enough to pour.
Combine the milks with the beaten eggs and mix well to combine.
Slowly add the 1/2 cup sugar and vanilla and beat the mixture well.
Pour the custard into the caramel lined mold.
Place the mold in the center of a ceramic baking dish and surround the mold with approximately 2 inches of hot water.
Place the baking dish with the mold into an oven preheated to 325 degrees.
Bake for 40 to 45 minutes, or until a knife inserted into the center of the custard comes out clean.
Remove the mold from the baking dish and let cool in the refrigerator for 1 hour.
Invert the mold onto a dish. The custard will slide out, and the caramel sauce will slide down the sides.