The dough used for cream puffs, known as pâte à choux, can be transformed into a variety of sweet and savory pastries. Once you master the basic recipe you can create any number of delicious variations!
Recipe for Cream Puffs
The trick behind all cream puff recipes is the dough, which is actually cooked in a pan before it is baked in the oven. The result is a hollow, puffy pastry that can be filled with pastry cream, whipped cream, cream and fresh fruit, chocolate whipped cream, ice cream, savory mousse, or whatever you like. Here, sweetened whipped cream is the filling.
Yield: 12 puffs
Dough Ingredients
1 cup plus 6 teaspoons of water (9 ounces)
4 ounces butter, cut into pieces
Pinch salt
Pinch sugar
1 cup plus 2 tablespoons all-purpose flour (5 ounces)
4 large room-temperature eggs
1 large room-temperature egg yolk
1 large room-temperature egg beaten with 1 teaspoon water for egg wash
Whipped Cream Filling Ingredients
2 cups cold heavy cream
2 tablespoons confectioners' sugar
4 ounces chopped semisweet chocolate only if making chocolate whipped cream filling (see below)
Garnish Ingredients
Confectioners' sugar
Sliced strawberries (optional)
Make the Dough
Put the water, butter, salt, and sugar in a saucepan and bring it to a boil.
Once the butter has melted, remove the pan from the heat and add all the flour at once.
Place the pan back onto medium heat and, using a wooden spoon, stir the mixture vigorously until it forms a thick batter that pulls away from the sides of the pan. This should take about 30 seconds.
Continue to cook the batter for 1 to 2 minutes more, stirring continuously.
Remove the batter from the pan and put it into the bowl of a stand mixer.
Break the eggs into a bowl.
Using the paddle attachment, mix the batter on low speed and add the eggs one at a time. Let each egg become fully incorporated before adding the next one. The batter should be smooth and firm.
You know you have added enough eggs when the batter hangs down from the paddle attachment in a V-shape.
Heat the oven to 450 F.
Place a sheet of parchment paper on a cookie sheet. Fit a pastry bag with a plain round hole piping tip and fill the bag with the dough.
Pipe 2 1/2-inch mounds of dough onto the cookie sheet, about 2 inches apart. Use a pastry brush dipped in egg wash to smooth out the top so it is round and not pointed.
Bake for 10 to 15 minutes or until golden brown. Reduce heat to 350 F and bake for 30 minutes more or until light and crispy. Turn the oven off and let the puffs rest inside for 10 minutes.
Remove from oven and let cool completely.
As close to serving time as is reasonable, cut the puffs in half across the middle. Fill with whipped cream and refrigerate until ready to serve. Dust with confectioners' sugar and place 1 to 2 puffs on each plate with sliced strawberries if desired.
Make the Whipped Cream Filling
In a medium bowl, whip cream and confectioners' sugar together in a small bowl until stiff peaks form.
Refrigerate until ready to fill the cream puffs. Filled cream puffs can be refrigerated for 3 hours before they start to become soggy.
Chocolate Whipped Cream Filling Variation
Follow these instructions to create a chocolate variation on the filling.
Beat together cream and confectioners' sugar in a medium bowl until firm. Set aside.
In a medium microwaveable bowl, melt chocolate in microwave at half power in 30-second bursts until softened. Stir until completely smooth.
Fold 1/2 cup of the reserved whipped cream into the warm chocolate to lighten it. Add the lightened chocolate mixture back into the remaining whipped cream, folding carefully so as not to deflate the volume until completely blended. Store in the refrigerator until ready to use.
Cannoli Cream Puffs Recipe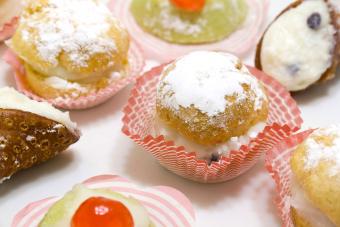 This dessert combines all the crispy goodness of choux paste with the pastry cream traditionally used to stuff cannoli. These pack some heft and are just as memorable as Italian dolci (sweets).
Yield: 30 puffs
Cannoli Cream Filling Ingredients
24 ounces very well-drained whole-milk ricotta
16 ounces mascarpone
1 cup confectioners' sugar
Ingredients for the Puffs
1 cup all-purpose flour
3/4 teaspoon cocoa powder
1/4 teaspoon cinnamon
1/2 cup water
1/2 cup milk
6 tablespoons butter, cut into chunks
1 tablespoon sugar
4 large room-temperature eggs
2 large room-temperature egg whites
Garnish Ingredients
1 cup chopped unsalted pistachios or mini chocolate chips (optional)
Confectioners' sugar for dusting (optional)
Make the Filling
In a large bowl, blend together ricotta and mascarpone cheeses until smooth and no lumps appear. Add 1 cup confectioners' sugar and mix well.
Cover and refrigerate for at least 30 minutes or until ready to use.
Make the Puffs
Heat oven to 425 F. Line two baking sheets with parchment paper.
In a large mixing bowl, whisk together flour, cocoa powder and cinnamon, and set aside.
In a medium saucepan, combine water, milk, butter, and sugar and bring to a boil over medium heat, stirring occasionally to melt butter and dissolve sugar.
Reduce heat to low, add flour-cocoa-cinnamon mixture all at once and continue to cook, stirring constantly, until mixture forms a ball, about 2 minutes. Transfer to an electric stand mixer bowl and let cool 3 minutes.
Beat in eggs one at a time using the paddle attachment and with mixer set on low speed. Fill a large piping bag fitted with a plain round tip with the mixture. Pipe 1 1/4-inch mounds onto the prepared pans spacing them 2 inches apart.
Bake 10 minutes, then reduce temperature to 375 F and bake 10 more minutes. Turn off the oven and let the puffs stay in the warm oven for 10 minutes or until they sound hollow and dried out when tapped.
Remove from oven and pierce each with the tip of a small knife to release steam. Cool completely on a wire rack.
Assemble the Cream Puffs
Cut each cooled puff in half horizontally. Remove cannoli cream from refrigerator and pipe or spoon a generous dollop on the bottom half and place the top half back on.
To mimic a cannoli, chopped pistachios or mini chocolate chips can be sprinkled around the exposed edges of the cream, but this is purely optional. Dust the tops with confectioners' sugar if desired. Serve within 1 hour of filling so the puffs don't become soggy.
Store any leftovers in the refrigerator. They will become soggy but they still will taste marvelous.
Profiterole Appetizer Sandwiches Recipe
Profiteroles are just smaller, appetizer-sized choux puffs. In this recipe, canapé sandwiches are made with them using smoked salmon and cream cheese but roast beef and horseradish-flavored cream cheese would be perfect as would pear slices with Gorgonzola cheese. Any savory ham, chicken or fish salad would be terrific as well.
Yield: 24 appetizers
Puff Ingredients
1/2 cup water
1/2 cup milk
4 ounces room-temperature butter, cut into tablespoons
1/4 teaspoon salt
1 cup all-purpose flour
4 large room-temperature eggs
Filling Ingredients
8 ounces room-temperature cream cheese
1 tablespoon finely chopped fresh dill
Salt to taste
5 1/4 ounces thinly sliced smoked salmon fillets
Additional dill sprigs for garnish (optional)
Make the Puffs
Heat oven to 400 F. Line baking sheets with parchment paper.
In a medium saucepan, combine water, milk, butter and salt, and bring to a boil.
Add the cup of flour and mix continuously with a wooden spoon. It's nearly ready for the next step when you see the dough forming up in the center, rather than sticking to the sides, of the pan. Continue to cook and stir over low heat for 2 more minutes.
By hand or in a stand mixer or mixing bowl, beat in the eggs, one at a time, until thoroughly incorporated.
Using a pastry bag fitted with a plain round tip, pipe tablespoon-size mounds of dough, 2 inches apart, onto prepared baking sheets. Bake for about 22 minutes, or until puffed up, golden brown and hollow-sounding. Let cool completely on a wire rack.
Make the Filling and Assemble
While choux puffs are baking, in a small bowl, combine cream cheese, salt to taste, and chopped dill until well incorporated.
Slice the thin slices of smoked salmon into 24 pieces.
Cut the cooled profiteroles in half with a serrated knife. Place a dollop of dill cream cheese on the bottom half, top with a piece of smoked salmon, cover with profiterole top.
Garnish with fresh dill sprigs if desired. Refrigerate until ready to serve.
If the Pâte à Choux Fits
Legend has it that Catherine de Medici brought the recipe for cream puffs from Italy when she moved to France in 1533. As the years progressed, the recipe for puff pastry went through several incarnations until Antoine Carême finally perfected it. Puff pastry dough is called pâte à choux, which means cabbage pastry, because it was believed to look like a very small head of cabbage.
Puffs Are Party Perfect
The beauty of choux puffs is that they freeze well unfilled. After they're baked, cool them completely. Place on a parchment-lined baking pan and quick freeze. Transfer to a zip-top bag and freeze for up to three months until ready to use. Take out as many as you need, let them thaw, and fill as you like.