If you're looking for ways to incorporate more vegetables in your diet, a spiral vegetable slicer is just what you need. This tool helps you make veggie pasta, fries, side dishes, salads, and even waffles with different healthy veggies you have around the house. Getting in your daily dose of vegetables won't be boring or tasteless when you use a spiral vegetable slicer -- also known as a spiralizer.
Ways to Use Spiral Slicers With Five Foods
Create fun and delicious dishes using the spiral slicer in a variety of ways with five different foods you probably have in your house right now.
Sweet Potatoes
Spiralize sweet potatoes to make pasta, fries, or even waffles.
Begin by washing your sweet potato, peel it, and cut it in half.
Suction your spiralizer to a countertop using the clamps it comes with to prevent it from sliding.
Place your sweet potato half in the spiralizer securely and spin the crank to make sweet potato spirals which are ready for cooking and using in recipes.
Try sweet potato pasta, garlic paprika sweet potato fries, or sweet potato waffles. Eat spiraled sweet potatoes au gratin or even dress up a traditional diced sweet potato pork chop dinner with your spiraled slices.
Zucchini
Spiralized zucchini is popular as a side dish or used as pasta for a main course.
Thoroughly wash your zucchini and cut off the ends. Cut large zucchinis in half.
Then, place the zucchini in your spiralizer securely and turn the handle to create zucchini spirals.
Use kitchen scissors to cut long noodles into smaller pieces if you prefer.
Enjoy spiralized zucchini raw or cooked. Try it in place of regular pasta noodles in chicken and pasta recipes like spaghetti with chicken carbonara and angel hair pasta with chicken piccata. Used raw, they can be tossed into cold pasta salad recipes for a veggie-filled bowl or tossed with tomatoes, cheese, oil, and herbs for a quick and hearty dish.
Peppers
Add a variety of colors to healthy dishes by spiralizing red, green, orange, or yellow bell peppers.
After washing your pepper, cut off the stem to begin the process.
Then secure the spiralizer to your countertop and center the bell pepper in it. Spin the handle to slice your peppers.
If you spiralize the seeded inside of the pepper, toss that part out and keep the remainder of the pepper.
Enjoy raw in a bell pepper antipasto appetizer. Cooked, add spiraled bell peppers to chicken paprikash dishes. Toss them into fajita mix on your next Mexican-themed evening.
Carrots
Slice carrots in the spiralizer for pasta, side dishes, casseroles, salads, or a fun snack.
Wash your carrot and cut of the ends.
If your carrot is large, cut it in half -- then peel it before placing it on your spiral vegetable slicer.
Secure the carrot in the slicer and spin the handle.
Create spiralized carrot strips to eat raw in carrot and bell pepper salads. Replace traditional pasta and create carrot noodles with peanut sauce for a Thai-inspired dish.
Apples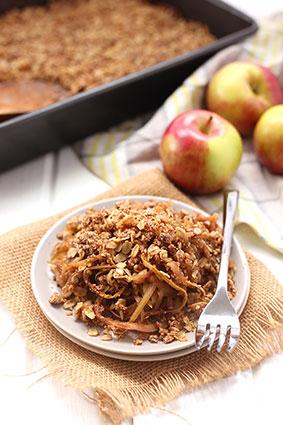 You can even spiralize your favorite fruits, like apples and pears, in spiral vegetable slicers.
Wash the apple thoroughly and remove the stem.
Secure the whole apple in the slicer, and spin the handle in a clockwise direction to make a nutritious sweet treat.
Try spiralized apples in salads like Waldorf salad or as a topper for a hearty oatmeal breakfast. Pie and other desserts, like spiralized apple crumble, are also perfect fits for fruit sliced this way.
Types of Spiral Vegetable Slicers
A variety of spiral vegetable slicers are available to choose from, each with their own merits.
Bottom Line
Using a vegetable spiralizer is an excellent way to sneak more veggies into your diet in a creative, but delicious, way. And the best part is, a variety of veggie slicers are available to fit your needs and budget.