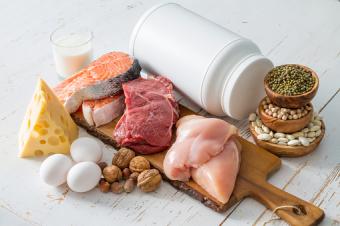 Protein provides your body with the necessary building blocks to create strong bones and muscles, healthy skin and blood, provide energy and to support the immune system. The body requires 10 to 35 percent of daily calories from protein-rich foods. That's about 46 grams of protein for women, and 56 grams of protein for men. Recipes rich in protein can help you reach these daily requirements.
Animal Sources of Protein
Animal sources of protein include eggs, dairy, whey, fish, shellfish, poultry, beef, pork, lamb and game meats. Protein grams per serving for recipes in both the animal and plant source sections were calculated using generic items from SELF's nutrition database and from MyFitnessPal.com.
High-Protein Meat and Poultry Recipes
Animal proteins range anywhere from 15 to 50 grams of protein per serving. Anything 20 grams and above would be considered a high-protein meat or poultry.
| Recipe | Description | Grams of Protein |
| --- | --- | --- |
| Slow Cooker Beef Brisket | This beef brisket differs from other recipes because it is served with a whiskey barbecue sauce which imparts deep flavors. | 33 grams |
| Irish Lamb Stew | Irish lamb stew was originally made with parsnips. When potatoes were introduced to Ireland, they also wound up in the pot. | 34 grams |
| Chicken Adobo | Chicken adobo is made with skin-on, bone-in chicken that is browned and then braised in a spicy sauce until tender. | 23 grams |
| Turkey Meatball Casserole | Swiss and Parmesan cheeses up the protein ante in this turkey meatball, broccoli and rice casserole. | 39 grams |
| Slow Cooker Country-Style Ribs | Country-style ribs can be purchased boneless or bone-in. Either way, they are a great candidate for a slow cooker. | 23 grams |
High-Protein Fish and Shellfish Recipes
Fish and shellfish typically have protein ranges of 10 to 40 grams so any recipe with 15 grams is high protein.
| Recipe | Description | Grams of Protein |
| --- | --- | --- |
| Shrimp Bisque | Cream ups the protein count of the shrimp in this delicious soup recipe. | 23 grams |
| Steamed Cod | Cod fillets are cooked in foil packets for a moist fish. | 41 grams |
| Lobster Macaroni and Cheese | What could be more decadent than lobster with creamy cheese for a double wallop of protein? | 23 grams |
| Ginger-Glazed Salmon | Ginger works well with strong-flavored, firm-fleshed fish like mahi mahi, tilapia and in this salmon dish. | 23 grams |
| Grilled Halibut with Parmesan | Meaty halibut gets a protein boost from Parmesan cheese. | 42 grams |
High-Protein Egg and Dairy Recipes
Milk, eggs and cheese have 6 to 28 grams of protein per serving, so consider a dish above 15 grams high.
| Recipe | Description | Grams of Protein |
| --- | --- | --- |
| Broccoli Quiche | This egg dish provides a triple load of protein from the eggs, cream and cheese. | 15 grams |
| Hard-Boiled Eggs with Ham and Cheese | This creamy dish is baked in the oven and delivers protein four ways -- eggs, ham, milk and cheese. | 30 grams |
| Cheese Souffle with Pastry | Egg whites, cheddar, Swiss cheeses and light cream deliver a powerful protein punch in this vegetarian appetizer or main course. | 30 grams |
| Stuffed Eggs | What an easy way this is to get one's protein requirement. Many people can down four stuffed eggs (that's eight halves) without batting an eye. | 18 grams |
| Frozen Custard | Each portion of this frozen custard delivers the protein from 1 cup of milk, 3.5 ounces of sweetened condensed milk and 1 large egg. | 22 grams |
Plant Sources of Protein
Plant sources of protein include grains, nuts, seeds, legumes, and soy.
High-Protein Grain Recipes
The range for high-protein grains per serving is 9 to 11 grams so 11 grams would be considered high.
| Recipe | Description | Grams of Protein |
| --- | --- | --- |
| Easter Dessert Pie | Farro is used here along with ricotta cheese and milk for a triple-dose of protein. | 24 grams |
| Buckwheat Bread | Buckwheat flour, all-purpose white flour and yeast bake up a good-for-you bread. | 11 grams |
| Mango Salsa Vegan Casserole | Rice and beans make this Mexican-flavored casserole a complete protein suitable as a meatless main course. | 19 grams |
| Crunchy Quinoa Loaf Recipe | Quinoa, tempeh, rice flour, sesame seeds and almonds combine to make this "meat" loaf a protein lover's dream. | 18 grams |
| Oatmeal with Cheese | The cheese bumps up the protein count of the oatmeal in this interesting spin on a breakfast classic. | 15 grams |
High-Protein Nut and Seed Recipes
Nuts and seeds are incomplete proteins, so for non-meat eaters, it's important to combine them with other high-protein foods like grains plus legumes or grains plus nuts/seeds or legumes plus nuts/seeds. Grams per serving can range from 8 to 18 grams, so 12 grams would be considered high.
| Recipe | Description | Grams of Protein |
| --- | --- | --- |
| Gluten-Free Seed and Nut Meal Bread | This crunchy bread recipe is packed with seeds and nuts and almond flour makes it gluten-free. You can up the protein content to 18 grams if you slather a slice with 2 tablespoons of peanut butter. | 10 grams; 18 grams with added peanut butter |
| Tofu Peanut Butter Cookies | Classic peanut butter cookies get a protein boost from tofu, peanut butter and chopped peanuts, oats, whole-wheat flour and almond milk. | 16 grams |
| Cashew Chicken | Cashew chicken packs a triple punch of protein from boneless, skinless breast meat, cashews and chicken broth. This becomes a complete protein meal because of the chicken. | 24 grams |
High-Protein Bean, Legume and Soy Recipes
For non-meat eaters, beans, legumes and soy are an important source of protein ranging from 8 to 32 grams per serving. But, except for soy beans, most other legumes and beans are considered incomplete proteins just like nuts and seeds and should be combined with other high-protein foods. Twelve grams of bean, legume or soy would be considered high.
| Recipe | Description | Grams of Protein |
| --- | --- | --- |
| Tofu Cheesecake | Eggs, plain tofu and cream cheese make this a good source of protein. | 13 grams |
| Falafel | Falafel is traditionally made with fava beans. Nowadays, however, chickpeas are often used because they are easier to find. This recipe provides instructions for both ways. | 13 grams |
| Greek Pasta Salad | Garbanzo beans, feta cheese and orzo pasta in Greek dressing add a Mediterranean flavor to this salad whose protein content can be upped by adding chicken or another protein of choice. | 12 grams |
| 3 Bean Salad | Green beans, wax beans and kidney beans are the protein powerhouses behind this salad recipe. This would make a great side to a protein-rich entrée. | 16 grams |
Easily Incorporate Protein Into Your Diet
Protein exists in most food sources in varying degrees. To get one's daily recommended allowance, it's important to combine protein sources in one nutritious meal and snack on high-protein nuts and seeds throughout the day.