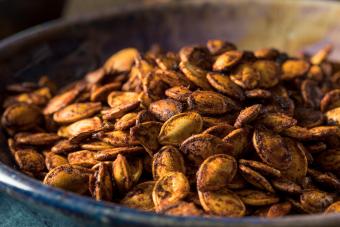 Pumpkin seeds are packed with nutrients like protein, healthy fats, fiber, and vitamins - and roasting leftover seeds from pumpkin carving makes the perfect heart-healthy snack for any occasion. Varying the flavor of roasted pumpkin seeds means you'll never get tired of this nutritious treat.
Making Roasted Seeds
Roasting pumpkin seeds is easier than you might think, especially when following these few simple steps.
Servings: 2 cups
Ingredients
2 cups pumpkin seeds
1 tablespoon melted butter
1/8 teaspoon salt
Directions
Preheat oven to 300 degrees Fahrenheit.
Clean pumpkin seeds after carving to avoid excess pumpkin pulp.
Mix seeds with melted butter and salt; stir well.
Place pumpkin seeds (evenly spread out in single layer) on an aluminum foil-lined baking sheet.
Bake for 45 minutes or until seeds are golden brown.
Eight Fun Flavor Variations
Alter pumpkin seed spices if you're in the mood to change things up a bit or want a specific flavor for party appetizers.
1. Pumpkin Spice
Try roasted pumpkin spice seeds by replacing salt in your recipe with 1 to 2 teaspoons of homemade pumpkin spice mixture. This festive twist is perfect for fall parties and healthy holiday snacking.
2. Cinnamon Sugar
Curb your sweet tooth replacing salt in the recipe with these ingredients.
1/2 teaspoon of cinnamon
1 teaspoon of sugar
Then toss with butter and bake as outlined in the original recipe.
3. Barbecue Spice
When you're in the mood for a more savory, meaty taste, try mixing in 1 to 2 teaspoons of barbecue spice rub and a few dashes of Worcestershire sauce with pumpkin seeds and butter before baking. This is the perfect snack for tailgating and football parties!
Put it out on a festive buffet, as a snack mix at the tailgate, or even as part of an appetizer table for a barbecue picnic.
4. Italian
Give roasted pumpkin seeds more of an Italian flavor by doing one of the following.
Add 1 teaspoon of Italian seasoning to the mixture before baking.
OR
Toss seeds with 1/2 teaspoon dried oregano mixed with 1 teaspoon of grated Parmesan cheese before baking.
5. Hot and Spicy
To create hot and spicy roasted pumpkin seeds, try this recipe by baking 2 cups of pumpkin seeds with:
4 teaspoons hot sauce
2 teaspoons chili powder
1 teaspoon ground cumin
1 teaspoon salt
1/2 teaspoon pepper
1/2 teaspoon cayenne pepper
Mix the ingredients thoroughly and then toss with the seeds before baking.
6. Smoked Paprika
For a mouth-watering smoked flavor, simply add 1 teaspoon of smoked paprika to the mix with salt before baking. To create a Spanish-style appetizer, add slivered almonds to the smoked seeds after baking.
7. Honey Roasted
Honey roasted pumpkin seeds are sure to be a hit for any occasion, especially among kids. Simply roast 2 cups of pumpkin seeds with:
1 tablespoon melted butter
1 tablespoon honey
2 teaspoons brown sugar
Bake according to the directions in the original recipe and you're sure to end up with a subtely sweet mix that goes quickly.
8. Bacon Flavor
If you're a bacon lover, bacon-flavored roasted pumpkin seeds are for you. Instead of regular salt, choose 1/4 teaspoon of bacon salt mixed with 1/4 teaspoon garlic powder. Then add bacon bits, if desired, until you reach peak flavor.
Storage Instructions
To maximize shelf life of roasted pumpkin seeds, store in an airtight container in room temperature for up to two months, or in your refrigerator for up to six months. You can even freeze roasted pumpkin seeds in airtight containers for up a year. If you notice the seeds are changing color, have an unusual odor, or taste funny, it's time to throw them out.
Reasons to Choose Pumpkin Seeds
Packed with nutrients, pumpkin seeds are a healthy festive snack you can enjoy all year round. Plus, if you're carving pumpkins this holiday season, don't let those nutrient-packed seeds go to waste. Make a fun activity for you and the kids by roasting them instead.