9 Amazing Kitchen Gadgets You've Never Heard Of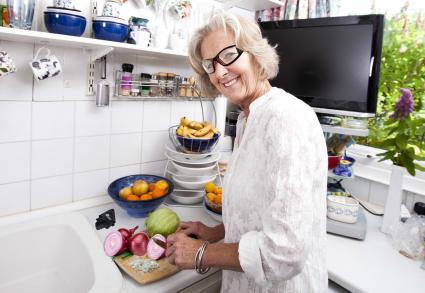 Throwing down in the kitchen doesn't need to end in blood, sweat, and tears! There are ways that you can, well, "hack" your way into optimizing your cooking experience, thanks to technology. The pineapple corer, for instance, has expedited the grueling process of cutting this intimidating, prickly fruit into the round, delicious slices we love to eat. But the amazing kitchen gadgets that help get your inner chef on don't stop there.
1. The Pantelligent
Who knew a frying pan could be this smart? Connected to an app, the Pantelligent tells you the exact temperature of your food while it's cooking. If you want to fry a salmon fillet, for instance, it will tell you when the pan is ready to start cooking, whether the pan is too hot, and even when it's time to flip the fish. According to Humberto Evans, founder of Pantelligent, it's like a GPS for cooking!
2.The ORBLUE Onion Goggles
Tears are meant to be reserved for profound events - a tragic loss, winning the lottery, or attending your child's graduation. So why waste them on onions! That's why the ORBLUE Onion Goggles are totally essential. They thwart those bulbous buggers from welling up your eyes when you're slicing and dicing in the kitchen.
3. The Hamilton Beach Breakfast Sandwich Maker
Breakfast sandwiches in the morning are super fun. Putting 'em together in the morning, on the other hand, is not. The Hamilton Beach Breakfast Sandwich Maker takes multi-tasking to a whole new level. Instead of cooking the ingredients separately, this bad boy fires up everything at the same time. When it's all done, the sandwich even assembles itself without the hassle of layering everything together. Cool, huh?
4. The Joseph Joseph Double Dish
It's not the prettiest sight to watch someone build a mound of saliva-covered pits while she or he eats cherries, is it? With this double dish server, you can gracefully dispose of those unsightly pits (or even nutshells) right into the bottom receptacle. Eat your messy pitted fruits and nuts with class!
5. The Zoku Ice Cream Maker
If you've ever craved something cold and creamy but couldn't be bothered to make a whole batch of ice cream, the Zoku Ice Cream Maker is your best friend. This non-electric gadget allows you to create single-serve ice cream, gelato, or frozen yogurt in under 10 minutes. How does it work? Simply pour the chilled mixture into the bowl and churn. Voila! Ice cream just for you.
6. Drop
Why bother fussing with all your measuring cups and spoons? You don't need 'em anymore with Drop. This iOS-connected scale can link to an interactive app to tell you the exact measurement of your ingredients in teaspoons or ounces. The Drop app also contains a wealth of recipes, so you can get your Emeril Lagasse on in the kitchen. Bam!
7. The Big Boss Oilless Fryer
Is it possible to fry foods without dousing them in unhealthy oils? "Keep dreaming!" most would say. But what if I told you that this isn't a fantasy and you can, in fact, fry your fries in an oilless fryer? Using halogen, convection, and infrared heat, the Big Boss Oilless Fryer is making all our health-conscious, fried food dreams come true. Users can have much healthier versions of their favorite fried foods without all that greasy rubbish.
8. The Non-Electric WonderBag Slow Cooker
The Wonderbag is an eco-friendly, portable slow cooker that doesn't need to be plugged into a socket to operate. "Is it magic or something?" you may wonder. Though we wish we could say yes, it is not. After the food is heated to a boil, the Wonderbag, which is made of cloth and foam, keeps food cookin' for an additional 12 hours, thanks to its insulation technology. It's never been easier to make ratatouille on the run!
9. iKettle
Would you believe me if I told you that you can actually communicate with a kettle from your smartphone? Well, thanks to the iKettle, it's true!
The iKettle, offered by Firebox.com, allows you to boil water from anywhere around the house with just a tap of a button. Every morning, the iKettle could even send you a "wake up" text, asking if you'd like to pop the kettle on. By the time you sluggishly make your way out of bed to get your coffee or tea, the kettle is already nice and hot. Now that is awesome.
Some of us can't take the heat, so we get out of the kitchen. But these 9 amazing kitchen gadgets will entice even the laziest people right back into the heart of the home.