Plan for leftovers the next time you make hamburgers and you'll have a head-start on making a variety of tasty dishes. Use these genius hacks and delicious recipes to put extra burger patties to good use any time you have them on hand!
Cheeseburger Pasta
Prepare your favorite macaroni and cheese recipe. Then:
While the pasta is boiling, cut up a few leftover hamburgers into small chunks and add to the pasta before mixing in the cheese.
Top with your favorite cheeseburger toppings, like red onions (pictured), sliced tomatoes, shredded lettuce, and serve with a dill pickle on the side.
Feel free to sprinkle a little shredded cheese on the top for even more rich flavor.
Shepherd's Pie
Chop up leftover hamburgers to use as the meat in your favorite shepherd's pie recipe. This is also a great way to use up leftover mashed potatoes and veggies if you have them on hand.
Meaty Grilled Cheese (aka Patty Melt)
Use extra burgers from your next cookout to create tasty patty melts to enjoy a few days later. When creating your patty melt, proceed with your favorite grilled cheese sandwich preparation routine, but add a burger patty prior to frying the sandwich.
If your leftover burgers are too thick to use this way, simply slice them in half lengthwise before heating to put on your patty melt.
Common add-ons include grilled onions, peppers, or mushrooms.
For an ultra cheesy sandwich, be sure to include cheese on both sides of the burger.
"Meatball" Sandwiches
Whip up a batch of homemade spaghetti sauce or open a jar of your favorite brand of marinara. Cut the burgers into quarters and sauté in the red sauce until heated through. If desired, you can even cut them into roundish shapes and reserved the trimmed pieces for one of these other genius hacks! Place on toasted baguettes and sprinkle with mozzarella or Parmesan cheese for a burger-y take on meatball sandwiches.
Hamburger Steak With Gravy
Make a batch of brown gravy. Turn the heat to warm or low, then:
In a separate pan, sauté your preferred combination of onions, bell peppers, and mushrooms.
Add the burgers and sautéed veggies to the gravy.
Stir to combine, flipping the burgers over so they are covered with gravy.
Heat through.
Serve with mashed potatoes or rice.
Stuffed Peppers
Crumble the burgers into small pieces and use as the meat portion of your favorite stuffed poblano or stuffed bell pepper recipe. This is also a great way to use leftover rice or veggies.
Cheeseburger and Home Fries Omelet
Omelets are a great option for using up many kinds of leftovers, including hamburgers! Chop up a few leftover burgers, follow instructions for making an omelet with potato, adding in plenty of cheese and chopped burgers. (Alternately, just make a plain omelet and use frozen home fries from the supermarket). Adding a variety of complementary items like diced tomatoes or sautéed onions, mushrooms, or bell peppers. Instead of salsa, maybe top with a bit of ketchup or serve some on the side for dipping.
Mexican Meat
Crumble the leftover burgers into small pieces. Use a recipe for recipe for homemade taco seasoning mix to make taco meat using the crumbled burgers. Once it is ready, use the meat to assemble tacos, a taco salad, or your your favorite taco casserole recipe. You can also use it as the meat filling for enchiladas, burritos, tamales, or quesadillas.
Bacon Cheeseburger Pizza
Purchase a cheese pizza or create your own using your favorite recipes for pizza dough and pizza sauce. (Go easy on the sauce if going the DIY route). Add plenty of cheese, using a combination of typical pizza cheeses plus shredded cheddar or American. Top with crumbled burgers and sautéed chopped onions. Cook in the oven and add sliced pickles prior to serving.
Chili
Whether you prefer to make chili in your slow cooker, pressure cooker, or on the stovetop, you can always use cut-up leftover hamburgers as the meat in the dish. Simply crumble or chop the burgers and prepare as usual. Serve by the bowlful or bring a smile to everyone's face with chili cheese fries.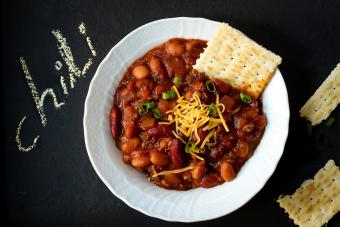 Vegetable Pizza Casserole
Vegetables covered in cheese makes everyone say "yum"! This version includes your leftover hamburger which adds protein to bulk up the recipe. It serves approximately eight.
Ingredients
1 tablespoon of olive oil
2 cups of chopped veggies (your preference for pizza, such as bell peppers, mushrooms, onions, spinach)
2 cups of crumbled or chopped leftover hamburgers
1 14-ounce jar of pizza sauce (or equivalent amount of homemade)
3.5 ounce package of pepperoni slices
8 ounces of shredded Mozzarella or a blend of Italian cheeses
Instructions
Preheat oven to 350 degrees
Sauté your favorite pizza veggies in olive oil (peppers, mushrooms, onions, spinach, etc.).
Pour pizza sauce into a square casserole dish.
Add chopped or crumbled hamburger to the sauce with the veggies. Stir to combine.
Cover with shredded cheese.
Layer pepperoni slices across the top of the pizza.
Bake at 350 degrees for 30 minutes (or until bubbly and heated through).
Variation
Switch things up for a different flavor profile.
If you like olives or pineapples on your pizza, layer some on the top of the meat and veggie mixture before adding the cheese.
If you're a fan of sausage pizza, replace some of the leftover hamburger with crumbled sausage (or leftover links or patties cut into small pieces).
Plenty of Options
Go ahead - throw a few extra burgers on the grill! There are plenty of creative ways to use up leftover burger patties. Whether you use one of these genius ideas or simply use them in your favorite ground beef or meat casserole recipe or come up with something totally new, your family and friends are sure to enjoy your creative concoction!