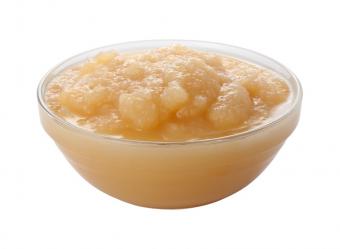 Many people want to enjoy their favorite recipes, but make them easier on their waistline. Fortunately, there are a number of substitutions you can use to lighten up your favorite foods. If you're ready to start cutting calories, carbs and fat, this list of substitutions will help you get started.
Cook Healthier With These 10 Substitutions
If you've always wanted to lighten up your favorite recipes but are afraid to try for fear of ruining them, then the following 10 tips can help you safely cook lighter.
You can find comparitve nutrition data from the tips below at Self Nutrition Data.
1. Flax for Eggs
You can substitute ground flax meal and water for an egg in baking. You can use this substitution in muffins, cakes, cookies like chocolate chip cookies, and other baked goods.
For each egg, you can save about 20 calories and one gram of fat. To use flax in place of eggs, do the following for each egg required:
Grind one tablespoon of flax seeds.
Mix with three tablespoons of warm water.
Whisk to combine.
Refrigerate for about 10 minutes.
Use in place of one egg.
2. Unsweetened Applesauce for Oil, Butter, and/or Sugar
Unsweetened applesauce has fewer calories than sugar and fewer calories and less fat than oil or butter. It works in baked goods such as quick breads or muffins because it still adds sweetness and moisture. For each cup of sugar replaced with applesauce, you can save about 600 calories. To use applesauce in place of sugar in baking:
Replace sugar at a 1:1 ratio with applesauce; if it requires one cup of sugar, use one cup of applesauce.
Reduce other liquid in the recipe by 1/4 cup for every cup of applesauce you use.
You can replace a portion of the oil or butter in a baking recipe like chocolate cake or snickerdoodle cookies with unsweetened applesauce as well. To use applesauce in place of oil, swap half the oil for an equal amount of apple sauce. So if a recipe calls for one cup of oil or butter, replace it with 1/2 cup oil and 1/2 cup applesauce. For every half cup, you can save about 800 calories and 100 grams of fat.
3. Chicken Stock for Cream and Butter in Mashed Potatoes and Purées
Mashed potatoes and purées are rich and luxurious, but they often contain fat and calorie-laden heavy cream and butter. You can still make a smooth mash or purée and maintain the flavor by replacing butter and cream with equal amounts of chicken or vegetable stock. For every tablespoon you substitute, you can save about 90 calories and 11 grams of fat.
4. Cauliflower for Rice
While rice isn't high in fat, it is high in carbs and calories. If you're counting either, using grated cauliflower in place of rice can save you about 60 calories and 15 grams of carbs per cup. You can replace rice with cauliflower in any dish, such as stir fry or Spanish rice at a 1:1 ratio.
To make cauliflower rice:
Process florets from one head of cauliflower in a food processor, pulsing until cauliflower is about the size of rice.
Microwave in a container with a lid (don't add water) until it is hot, about two to three minutes.
Use in your favorite recipes in place of rice.
5. Nonfat Plain Greek Yogurt for Sour Cream
Sour cream adds tangy creaminess to recipes and meals. Whether you use it to top a baked potato, with Mexican food, or in dishes like Stroganoff or baked goods, you can replace sour cream with nonfat plain Greek yogurt at a 1:1 ratio. By doing so, you will save about 170 calories and 23 grams of fat per half cup.
6. Meringue for Cake Frosting
After you've baked a cake, you can still lighten it up when you frost it. Instead of using a high-fat, sugary buttercream, you can make frosting out of meringue. You can make your dessert even lighter by making a classic angel food cake. To make a meringue frosting:
Whisk four large egg whites with a beater until it forms soft peaks.
Add 1/4 teaspoon cream of tarter and 1/3 cup stevia blend such as Truvia, and 1/2 teaspoon vanilla.
Continue beating until whites form stiff peaks.
Spread on cake and use a kitchen torch to brown.
7. Zucchini for Pasta
Zucchini is a great low-carb, low-calorie replacement for starchy pasta. You can save about 90 calories and 20 grams of carbohydrates per ounce. How you prepare the zucchini depends on the type of pasta you are using. For example, to replace lasagna noodles, thinly slice it on a mandoline. For spaghetti or fettuccine, cut it into thin strips.
There is no need to pre-blanch the zucchini in lasagna. If you are using it for fettuccine or spaghetti, you will need to blanch it in boiling water to bring it up to temperature, about 30 seconds to one minute.
8. Ground White Meat Turkey for Ground Beef
You can lighten up your favorite main courses, such as tacos or spaghetti with meat sauce, by replacing ground beef with lean ground turkey breast. Be careful, however, because not all ground turkey is turkey breast. Some ground turkey is higher in fat because it contains dark meat and/or skin with the ground meat. Look for package labels that specify 99 percent lean ground turkey or ground turkey breast. When using lean turkey, you can save about 60 calories and 4 grams of fat per four ounces if you replace 96 percent lean ground beef.
9. Nonfat Evaporated Milk for Heavy Cream
Many recipes call for heavy cream to add body and thickness. You can replace the heavy cream in these recipes with an equal amount of nonfat evaporated milk, saving yourself about 50 calories and 10 grams of fat per quarter cup. This works well in pan sauces, custards, and even chocolate mousse.
10. Black Beans for Flour in Brownies
If you love brownies, but worry about how high they are in calories, you can actually replace the flour with black beans. Doing so will save you 250 calories and 45 grams of carbohydrates per cup. To use black beans in brownies, replace the flour at a 1:1 ratio (one cup of beans for one cup of flour). Drain and mash the canned beans before you add them. You'll find this makes moist, rich, chewy brownies.
Cook Lighter, Worry Less
Using the tips above can help you lighten up your cooking, creating dishes and baked goods that have fewer calories, less fat, and fewer carbohydrates. It's a great way to eat the foods you love without worrying about the toll they will take on your waistline.