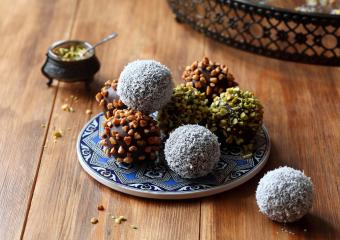 Truffles are simple to make, and these Champagne-flavored truffles are easy to eat, as well. Truffles can be decorated in a variety of ways and work especially well as a holiday treat.
Christmas Champagne Truffles Recipe
Champagne truffles are an indulgent treat that can be decorated in a variety of ways and are a great option to bring to a holdiay party, send as a gift, or serve after a dinner party. This recipe makes around 20 truffles.
Ingredients
8 ounces of bittersweet chocolate, chopped
4 ounces of heavy cream
1 ounce of butter
1/4 cup of Champagne
1 tablespoon of cognac
1/2 cup of clear sanding sugar
Instructions
Place the chopped chocolate in a heatproof bowl.
In a saucepan, bring the butter and cream just to scalding. This is when the cream just starts to simmer.
Pour the heated cream over the chocolate and stir until the chocolate has melted and is smooth.
Add the Champagne and cognac.
Stir until well combined.
Let rest in your refrigerator for at least one hour.
Once the chocolate is firm enough to ball, form into 1-inch balls.
Roll each truffle in the sanding sugar.
Place the chocolate balls on a cookie sheet that has been lined with parchment or wax paper.
Place the cookie sheet with the truffles in your refrigerator.
Let rest for one hour.
For a fun alternative, you can use sanding sugar of different colors.
How to Dip Truffles in Chocolate
Dipping your truffles in chocolate gives them a beautiful appearance and adds a depth of flavor to your delicious creation. For the best results chill your truffles in the fridge or freezer so they are slightly hardened which will make the dipping a bit easier. You can use white chocolate, milk chocolate, or dark chocolate depending on your preference. White chocolate should be melted using a double boiler, while dark and milk can be done in the microwave.
Use chocolate chips or roughly chop a chocolate bar and place in a microwave-safe bowl.

Melt dark or milk chocolate in a microwave on 20 to 30 second intervals stirring in between making sure not to scald the chocolate.
Once nearly melted continue to stir until the chocolate is completely smooth.
If you opt to use white chocolate, use a double boiler to slowly melt it on low until smooth. When the chocolate is nearly melted, remove from the heat and stir until smooth.
Line a flat baking sheet or tray with parchment paper and use a fork to gently lift up one truffle.
Slowly lower the truffle into the chocolate coating or use a spoon to cover the truffle in chocolate.
Allow the excess chocolate to drip off and slowly place the truffle onto the baking tray.
If you'd like to add a decorations on top of the chocolate, do so immediately after you've placed one on the tray instead of waiting until your whole batch has been dipped.
Repeat until all truffles are dipped.
Once the chocolate has hardened, trim the excess chocolate off for a sleek appearance.
Serve at room temperature.
Truffle Decorating Options
Truffles are super easy to decorate and having a variety of coatings can give each of your truffles a unique flavor and look making your treats perfect for a party or get together. Undipped truffles can be rolled in any finely blended coating or powder, while dipped truffles can have a simple sprinkle of decoration right on top. For some fun coatings you can try:
Red and green sprinkles dusted on top of a dipped truffle or undipped truffles rolled in red and green sprinkles
Matcha green powder rolled on an undipped truffle or sprinkled on a dipped truffle
Cayenne or chilli powder and cocoa powder rolled on an undipped truffle for a spicy and somewhat bitter flavor
Blended freeze dried strawberries and/or raspberries for a natural red decoration on dipped or undipped truffles
Blended candy canes rolled on an undipped truffle or sprinkled on a dipped truffle for a hint of sweet mint
Rainbow sprinkles rolled onto an undipped truffle
Crushed or chopped nuts for a great textural element
Finely chopped lavender as a topping for a dipped truffle for a lovely floral note
Toasted sesame or black sesame for a unique and delicious flavor
Storing Your Truffles
Truffles can be stored at room temperature for up to two weeks. If you need to refrigerate, keep in mind that the chocolate covered truffles may lose their beautiful sheen and may develop discoloration. In the fridge chocolate truffles can last for about six months, and in the freezer for about one year. Be sure that you store them in a dry, airtight container.
A Gift of Truffles
Instead of purchasing chocolates to give away during the holiday season, you can make these truffles and give them as thoughtful gifts. The decadent combination of chocolate and Champagne will make the holidays that much more special, and everyone will be amazed that you made them yourself.