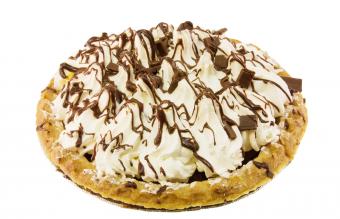 A good chocolate cream pie is simply an irresistible dessert as these two recipes will prove. One's for a traditional-style pie, while the other incorporates sweetened cream cheese. Both are just too dreamy to pass up.
Homemade Chocolate Cream Pie
This delicious, traditional chocolate pie is made on the stovetop, and you can choose the type of crust you want to use. The recipe yields one nine-inch pie.
Filling Ingredients
2 cups milk
1/4 cup cocoa
1/2 cup granulated sugar
3 tablespoons cornstarch
2 eggs
1 tablespoon butter
1 tablespoon caramel
3/4 teaspoon vanilla
A few grains salt
One (nine-inch) pre-baked crust (ready-made graham or cookie crust can also be used)
Whipped Cream Ingredients
1/2 cup heavy cream
1 tablespoon granulated sugar
1/8 teaspoon vanilla extract
Filling Instructions
In a double boiler, heat the milk over medium heat until hot, but not quite simmering.
In a medium-size mixing bowl, stir together the sugar, cocoa, and cornstarch.
Stir the hot milk into this mixture until completely combined.
Return the chocolate mixture to the double boiler and cook 15 minutes over medium heat, stirring frequently.
In a small bowl, beat the eggs, and then stir two tablespoons of the hot mixture into them to temper them. Then stirring constantly, pour the tempered egg mixture slowly into the hot mixture. Cook it for two minutes, stirring occasionally.
Stir in the remaining ingredients.
Pour the mixture into the crust and allow to cool for 10 minutes. Then chill the pie in the fridge for at least one hour.
Whipped Cream Instructions
In a medium-size bowl, combine the heavy cream, sugar, and vanilla.
Whip the cream until peaks form. Then spread or pipe it over the pie.
Quick and Easy Chocolate Pudding Pie
Contributed by Holly Swanson
This variation of chocolate pudding pie has a sweet cream cheese layer on the bottom that makes a perfect complement to the chocolate layer on top. The recipe yields one nine-inch pie.
Ingredients
One (nine-inch) ready-made graham cracker or cookie pie crust
8 ounces cream cheese
1 cup powdered sugar
1 cup whipped topping
One large (approximately six-ounce) package instant chocolate pudding
3 cups cold milk
Instructions
In a large bowl, mix together the cream cheese, powdered sugar, and whipped cream until smooth.
Pour the mixture into the pie crust.
Prepare the pudding by combining the mix with milk and blend. Then allow the pudding to thicken for about five minutes.
Spoon the pudding over the cream cheese layer.
Refrigerate the pie until it's firm and ready to serve.
Topping Your Pie
Chocolate cream pies are typically topped with whipped cream, whether the recipe calls for it or not, but you don't have to stop there if you want to dress your pie up even further. Consider these ideas:
Sprinkling the top of the pie with chopped nuts or chocolate chips
Drizzling chocolate or caramel syrup over the whipped cream
Sprinkling some toasted, shredded coconut on top
All the above
Storing the Pie
Chocolate cream pie typically looks its best the day it's made. Store it in a covered container in the refrigerator where it will keep for about three days.
Chocolate Pie You'll Dream About
Once you try these recipes, it will be difficult to get that luscious flavor out of your head. Don't be surprised if you wake up to find you've been dreaming about eating another slice. These pies are that good.