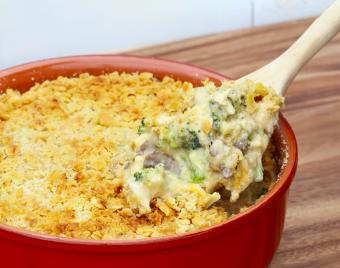 Need some quick, easy chicken recipes you can whip up any day of the week with little prep time? Chicken is versatile and works well in different casseroles. And, while the recipes below are simple to make, they'll still make your mouth water.
Chicken, Mushroom, and Broccoli Casserole
Kids and adults alike will beg for seconds when you serve this tasty chicken, mushroom, and broccoli casserole. It's packed with protein and veggies, curbs your appetite, and keeps you toasty warm on cold nights.
Servings: 8 - 12
Ingredients
4 cups cubed (cooked) chicken breast
1 10-ounce can cream of chicken soup
1 10-ounce can cream of mushroom soup
1 24-ounce bag frozen broccoli, thawed
1 8-ounce can sliced mushrooms
1 cup shredded mozzarella cheese
2 large eggs, beaten
1 small yellow onion, chopped
1 tablespoon butter, melted
1 teaspoon garlic powder
Salt and pepper to taste
24 crushed butter crackers
Instructions
Preheat oven to 375 degrees F.
Combine all ingredients (except crackers) in large bowl.
Spray a 9 x 13 baking dish with cooking spray.
Place chicken mixture in baking dish.
Bake mixture (uncovered) at 375 degrees F for 30 minutes.
Remove from oven, and sprinkle cracker crumbles on top of casserole.
Bake an additional 10 minutes, or until crackers turn golden brown.
Chicken Pesto Penne Bake
Looking for a simple chicken and pasta casserole recipe loaded with flavor? Chicken pesto penne bake is easy to whip up for any occasion and is sure to be a hit with dinner guests.
Servings: 8 - 12
Ingredients
1 pound penne pasta
2 tablespoons olive oil, divided
5 cups cooked cubed chicken
3 cups Italian blend shredded cheese
1 8-ounce can mushrooms
1 small diced onion
1 cup pesto sauce
3 ½ cups 2% milk
3 tablespoons butter, melted
3 tablespoons flour
3 cloves garlic, chopped
Salt and pepper to taste
½ cup grated Parmesan cheese
Directions
Preheat oven to 350 degrees F.
Prepare pasta according to instructions until it is al dente.
Drain pasta and toss with 1 tablespoon of olive oil.
Combine pasta with all other ingredients (except shredded Parmesan cheese) in large bowl and stir.
Spray a 9 x 13 glass baking dish with cooking spray.
Place pasta mixture in a glass baking dish.
Sprinkle Parmesan cheese on top.
Bake in the oven for 30 minutes or until cheese is golden brown.
Chicken Pasta Casserole Recipe
Try a savory chicken pasta casserole recipe contains just six simple ingredients
Servings: about 6
Ingredients
16 ounces penne pasta, cooked
2 cans cream of chicken soup
20 ounces of milk
3 chicken breasts, cooked and cubed
16 ounces frozen broccoli cuts
8 ounces sliced carrots
Shredded Parmesan cheese, as desired
Directions
Preheat oven to 350 degrees F.
Pour pasta in a greased casserole dish and top with soup and milk.
Stir in broccoli and carrots.
Bake for about 45 minutes.
Top with Parmesan cheese if desired.
Rotel Chicken Enchilada Casserole Recipe
With just seven ingredients, this simple dish won't let you down when you're in the mood for Mexican food.
Servings: about 6
Ingredients
1 whole chicken
1 can Rotel tomatoes & green chiles, chopped
1 med. bag tortilla chips
1 can cream of mushroom soup
1 can cream of chicken soup
1 lb. box Velveeta cheese
1/2 onion, chopped
3 tablespoons black olives
Directions
Preheat oven to 350 degrees F.
Boil chicken, debone, and skin.
In a medium-sized bowl, mix soups, tomatoes, and green chiles together.
Heat until warm.
Place ingredients in layers in a large baking dish, starting with chips, then chicken, then chopped onions, then soup mixture.
Sprinkle black olives over the top of the casserole.
Slice cheese into pieces and place on top of soup mixture.
Continue layering until ending with cheese.
Bake until hot and bubbly.
Campbell Chicken Rice Casserole Recipe
If you love chicken and rice together but are looking to change things up a bit in the kitchen, try this simple recipe.
Servings: 4
Ingredients
1 can Campbell's® Condensed Cream of Mushroom Soup
1 cup water (for creamier rice, use 1 1/3 cups of water instead)
3/4 cup uncooked regular long-grain white rice
1/4 teaspoon paprika
1/4 teaspoon ground black pepper
4 skinless, boneless chicken breast halves or thighs (about 1 pound)
Directions
Preheat oven to 375 degrees F.
Place condensed soup in a 2-quart baking dish.
Stir in rice, water, paprika, and black pepper until thoroughly mixed.
Place chicken on top of mixture.
Season with additional paprika and black pepper. Cover baking dish with aluminum foil.
Bake for approximately 45 minutes or until the chicken is cooked through and the rice is tender.
Choose Chicken Casserole Tonight
Grilled chicken breast is one of the best sources of lean protein you'll find, so adding it to casseroles just makes sense. Regardless of the occasion you're cooking for, choose casseroles as a satisfying way to fill you up, use up leftovers, and supply you with all the main food groups in one dish.