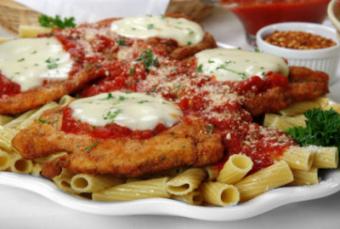 Chicken Parmesan is a delicious way to prepare dinner, but many people don't know that there are two different versions and once you have tried both, you might find it hard to pick your favorite chicken Parmesan recipe.
Chicken Parmesan Recipe
Chicken Parmesan is a simple recipe that can be made fast. If you don't have much time but you do have a jar of tomato sauce and some chicken breasts, you are halfway there.
Ingredients
1 basic marinara recipe (see below) or a large jar of tomato sauce
4 chicken breasts, pounded thin
1 cup of breadcrumbs
2 eggs beaten well
1 cup of Parmesan cheese
2 cups of shredded mozzarella
Vegetable oil (enough to fill a pan about ¼ inch deep)
Instructions
Pound out the chicken breasts to about ¼ inch thick.
Place the breadcrumbs on a plate or in a pie dish.
Mix in about ¼ cup of the Parmesan cheese.
Place the bowl of beaten eggs next to the plate of breadcrumbs.
Dip the chicken in the eggs and then coat with the breadcrumb mixture.
Pour about ¼ of marinara sauce in the bottom of a roasting pan.
Preheat oven to 375 degrees.
Pour enough oil into your frying pan to fill the bottom about ¼ inch deep.
Place over a medium high heat.
Once the oil starts to shimmer, fry the chicken about a minute on each side.
Place each chicken breast on a rack to drain off the oil.
Place each drained chicken breast in the roasting pan.
Cover the chicken breasts with marinara.
Sprinkle with Parmesan cheese.
Bake for 10 minutes.
Cover each chicken breast with mozzarella cheese.
Bake until the mozzarella cheese is melted.
Serve with pasta and garlic bread.
Another Chicken Parmesan Recipe
This recipe can be made very quickly and uses ingredients that you probably have in your kitchen already. It also works well for pork chops.
Ingredients
4 chicken breasts, pounded thin
¼ cup of flour
2 eggs
2 ounces of Parmesan cheese
1 tablespoon milk
Salt and pepper
3 tablespoons vegetable oil (more may be needed)
8 slices of lemon (optional)
Instructions
Place the flour in a pie pan or plate.
Beat the eggs well in a bowl. And mix in the Parmesan cheese and milk.
Place the eggs next to the flour.
Select a pan that is large enough to hold the four chicken breasts.
Preheat your oven to 350 degrees.
Place the pan over a medium high heat and add enough oil to form a thin layer over the bottom of the pan.
When the oil starts to shimmer, dip each piece of chicken into the flour and then into the egg mixture.
Place the chicken in the pan and fry until the bottom is golden brown, about two minutes.
Turn the chicken over, place the pan in the oven, and cook for 8-10 minutes. If you do not want to put the pan in the oven, just cook the chicken in the pan until done.
You can serve the chicken with a slice of lemon and some Alfredo sauce or cover with marinara sauce and top with shredded mozzarella.
Quick Marinara Sauce Recipe
Ingredients
2 cans of crushed tomatoes
1 can of tomato paste
½ onion diced
2 cloves garlic minced
Olive oil
Dried oregano
Dried basil
Dried thyme
Salt and pepper
Crushed red pepper
Instructions
Using a large pot, pour enough olive oil to just barely cover the bottom of the pot.
Add the onions and set over a medium flame.
Add a pinch of salt and pepper.
Let the onions cook slowly until they start to become translucent.
Add the garlic.
Simmer for a few more minutes.
Add the crushed tomatoes, tomato paste, and sprinkle in the dried herbs and crushed red pepper to taste.
Simmer for 20 minutes over a very low flame, stirring occasionally.
Taste for seasonings.
If the sauce is too thick, you can thin it with water or red wine.
It the sauce is too acid, add a tablespoon of applesauce or sugar to cut the acid.
.