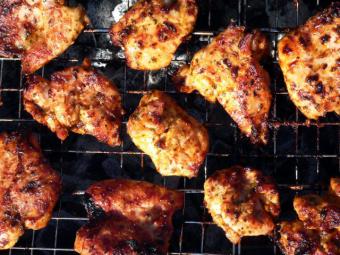 Some marinated chicken and a hot grill is a great combination for fantastic BBQ chicken.
The Grill of It All
Chicken was made for the grill. While burgers are a great standard and veggies are a fun alternative, no summer barbecue would be complete without BBQ chicken. There are endless ways to grill your chicken, but my favorite starts with a marinade. I like to marinade the chicken because it gives the meat time to absorb the flavor. Often when grilling, you are basting the chicken while it is on the grill and this is good but, it really only flavors the skin. Marinating gets the flavors deep inside the meat where you can taste it in every bite.
There are people out there in the cooking world who hate the garlic press. I do think that a lot of home cooks rely on the press when they should mince or chop their garlic with a knife rather than mash it with the press. But when making a marinade, I believe the garlic press is called for. We don't need pretty slices or bits that can be sautéed well...what we want here is for the garlic oil and juice and crushed bits of garlic to swim around in the marinade and mingle with all the other flavors. So if you have a garlic press, this is the perfect time to get it out.
BBQ Chicken Recipe
Ingredients
For this barbeque chicken recipe, you will need:
5 pounds chicken parts
1 cup olive oil
6 garlic cloves, crushed
1 tablespoon and 1 teaspoon chili powder
Juice of 1 lime
2 teaspoons ground cumin
1 teaspoon coriander
1/2 teaspoon ground cloves
1/4 teaspoon cayenne pepper
Salt & pepper
Instructions
In a large bowl, mix everything except the salt and pepper. Really whisk it well. Add the chicken and work it around in the bowl until it is well coated by the marinade. Cover with plastic wrap and let sit in the refrigerator overnight. If overnight is not an option, try to get at least 5 hours of marinating in. When ready to cook, take the chicken out of the marinade but save the marinade. We will use it to baste the chicken.
Get your grill going with a medium heat but first, make sure you oil the grill (I like to use olive oil). Brush the grill liberally with the oil then salt and pepper the BBQ chicken and then place it skin side down on the grill. Cook for about 30 minutes, turning and basting every 10 minutes. Keep the cover of your grill closed when not basting and turning. Serve with coleslaw and cold beer.
Related Barbecue Recipes
Southern Cooking
BBQ Crockpot Short Ribs Recipe
BBQ Crockpot Chicken Recipe
Barbecue Beef Ribs Recipe
Barbecued Salmon Recipe
.