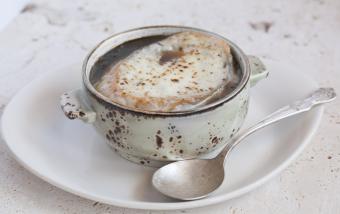 Ingredients
4 onions, sliced
1/4 cup olive oil
3 garlic cloves, minced
3/4 cups dry white wine
2 teaspoons dried thyme
2 bay leaves
1 1/2 teaspoons salt
1/2 teaspoon pepper
1 tablespoon all-purpose flour
4 cups vegetable broth
1/2 cup soy sauce
2 tablespoons balsamic vinegar
1 baguette, sliced and toasted
Vegan cheese (ingredients below)
Vegan Cheese Ingredients
1 1/4 cup plant-based milk
1/2 cup raw cashews, soaked in water for 4 to 8 hours (then drained)
1 tablespoon white wine vinegar
1 tablespoon white miso paste
1 tablespoon arrowroot powder
1/2 teaspoon sea salt
1 teaspoon lemon juice
1 teaspoon garlic salt
Instructions
In a large pot, cook onions in olive oil over medium heat for 30 minutes (stirring occasionally).
Add the garlic and change the heat setting to medium.
Add the wine, bay leaves, thyme, salt, and pepper.
Simmer the mixture on medium-low heat for 15 minutes until wine evaporates.
Add the flour and stir for 2 minutes.
Stir in the broth, soy sauce, and vinegar and simmer on medium heat for 20 minutes.
Prepare the vegan cheese by blending all cheese ingredients in a food processor for 1 to 2 minutes until smooth. Heat the mixture in saucepan over medium heat for 5 minutes, whisking continuously. Remove from the heat and cool.
Remove the soup from heat and take out the bay leaves.
Heat your broiler to a high setting.
Toast the baguette slices.
Divide the soup among four to eight oven-safe crocks or bowls.
Spread the vegan cheese over the baguette slices and set on top of each soup bowl.
Spray the cheese tops with olive oil.
Broil the soup bowls until cheese browns (about 2 to 3 minutes), and serve.
Servings: 4 to 8
Optional Add-Ons and Substitutions
Consider the following garnishes and substitutions.
Garnish each bowl with thyme sprigs.
Use tapioca starch in place of arrowroot powder.
Try store-bought vegan cheese to reduce prep time, if desired.
Use tamari in place of soy sauce.
Try coconut oil in place of olive oil.
Use nutritional yeast in place of miso paste.
Try water in place of plant-based milk.
Use croutons instead of baguette slices.