4 Meals You Didn't Know You Could Make With Zucchini
You gotta feel a little sorry for zucchini. While pumpkin, also a squash, gets the spotlight for delicious holiday pies and seasonal Starbucks lattes, zucchini is usually just slapped on top of an appetizer or cooked as grandma's lunchtime soup.
Come on! Zucchini deserves more than a sad ol' bowl of stew. Rich in vitamin C, which minimizes the risk of heart disease, hypertension, cancer, and osteoporosis, this summer squash is a healthy and delicious alternative for some of your favorite main dishes - not to mention some of your most beloved desserts.
1. Zucchini Waffles
We know what you're thinking: "Greens have their place and it's certainly not inside a waffle!" Granted, the thought of veggies coming anywhere near maple syrup might sound offputting, but we promise it doesn't taste like it sounds. Zucchini waffles are so delicious - plus it's a great way to sneak some greens into your kids' daily intake. Muhahaha!
Ingredients
1 large zucchini, ends trimmed
1/2 cup white whole wheat flour
1 tablespoon baking powder
1 teaspoon kosher salt
1 teaspoon cinnamon
1/3 cup sugar
1/2 cup milk
2 large eggs
1 teaspoon pure vanilla extract
Instructions
1. Preheat the waffle maker to 400 degrees Fahrenheit.
2. Grate the zucchini.
3. Strain the moisture out of the zucchini and set aside.
4. Stir the flour, baking powder, salt, sugar, and cinnamon together in a mixing bowl.
5. Whisk the milk, eggs, and vanilla extract in a separate bowl.
6. Pour the flour mixture into the bowl and mix until smooth.
7. Fold in the zucchini and continue mixing until well combined.
8. Pour batter into waffle maker and cook for five minutes, or until brown.
9. Serve with butter and maple syrup.
2. Zucchini Noodles With Creamy Avocado Pesto
Spaghetti is literally the most entertaining dish ever. You can spin it around your fork, slurp it up, and savor the flavor of the pasta sauce. While you can opt for whole wheat pastas to kick up the nutritional value of your spaghetti, how much more fun would it be to use zucchini instead? And there's actually a word for it -- "zoodles." Can you imagine the look on your family's face when you serve 'em green spaghetti for dinner? Priceless!
Ingredients
The Zoodles:
2 large zucchini (zoodles), spiralized and drained of moisture
1 tablespoon olive oil
The Sauce:
2 avocados
1 cup fresh basil leaves
3 cloves garlic
1/4 cup pine nuts
2 tablespoon lemon juice
1/2 teaspoon sea salt
1/4 cup olive oil
cracked black pepper for taste
grated parmesan for taste
Instructions
1. In a food processor, pulse avocados, basil leaves, garlic, pine nuts, lemon juice, and sea salt until finely ground.
2. With the motor still running, add olive oil until mixture is creamy.
3. Pour olive oil into a large skillet over medium-high heat and add the zoodles.
4. Cook for 2 minutes or until tender.
5. In a large bowl, toss the zoodles with the avocado pesto.
6. Sprinkle pepper and Parmesan for taste.
3. Baked Zucchini Fries
The question is: eat french fries, which are at their core a deep-fried heart attack in the form of potato wedges, or munch on equally delicious and guilt-free baked zucchini fries? Gee, that's a tough one.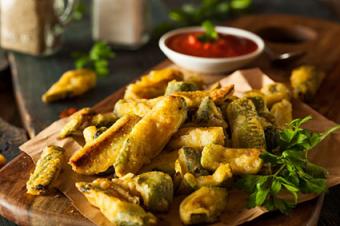 Ingredients
1 cup Panko (Japanese-style breadcrumbs)
1/2 cup grated Parmesan cheese
1 teaspoon Italian seasoning
4 zucchini, quartered lengthwise
1/2 cup all-purpose flour
2 large eggs, beaten
2 tablespoons chopped parsley leaves
Salt and black pepper for taste
Instructions
1. Preheat oven to 425 degrees Fahrenheit.
2. Spray a cooling rack with nonstick spray and place on a baking sheet.
3. In a large bowl, mix Panko, Parmesan cheese and Italian seasoning. Sprinkle salt and pepper for taste.
4. Cover the zucchini in flour, soak into eggs, then dip in Panko mixture.
5. Place zucchini onto baking sheet.
6. Bake for 20 minutes, or until crisp.
4. Coconut Flour Gluten-Free Zucchini Bread
We're not sure why that one wacky, experimental baker decided to mix zucchini into bread batter, but boy are we glad she or he did it! Sure zucchini bread might sound a little bizarre, but when it's baked to perfection, this moist, slightly sweetened dessert is divine. Gluten-free or no, this zucchini bread recipe is definitely a crowd pleaser.
Zucchini as the Healthier Alternative
Whether you're a vegetarian, on a diet, or simply looking to try cool new recipes, these delicious zucchini recipes will help you satisfy your daily veggie requirement. Soon you'll be saying, "Spaghetti, what? I'm all about zoodles now!"