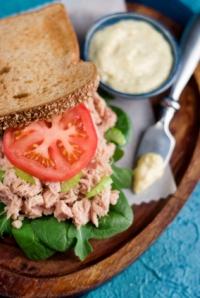 Ingredients for Tuna Pasta Salad
1 1/2 c. corkscrew pasta
10 oz. frozen peas, thawed
1 1/2 c. chopped carrots
1/4 c. finely chopped onion
2/3 c. mayonnaise
2 tbsp. lemon juice
2 tsp. sugar
1 tsp. dill weed
1 tsp. salt
1/4 tsp. pepper
1 sm. can tuna
Instructions
Boil pasta according to package directions; rinse with cold water and drain pasta well.
Thaw peas completely; drain well.
Combine cooled pasta, peas, carrots, onion and tuna in a large bowl; mix well.
Combine mayonnaise, lemon juice, sugar, dill weed, salt and pepper in a smaller bowl; blend well.
Pour mayonnaise dressing over macaroni mixture; toss lightly.
Refrigerate for 2 hours or until thoroughly chilled.
Sprinkle with paprika, if desired, and serve on lettuce leaves.