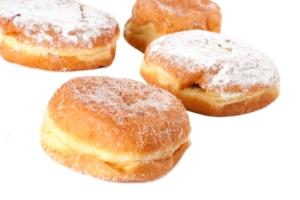 Ingredients for Doughnuts Recipe 2
2 eggs beaten light
1 cup sugar
1 cup milk
2 tablespoons melted butter
3 cups flour
3 teaspoons baking powder
1 teaspoon each of cinnamon and salt
Instructions
Combine the eggs, sugar, milk, and butter. Mix well.
Sift together the flour and baking powder.
Slowly add the flour until stiff enough to make a dough.
Roll out onto a floured board and cut with donut cutters.
Cook in boiling cooking oil until golden brown.
Sprinkle with cinnamon and salt.
.